Have you been wanting to enjoy your back yard and patio more, but just haven't had the inspiration to get out there and build that deck, gazebo or patio set? Summer is not quite over.
You still have time to get a few outdoor projects done before you have to move indoors. Here are 13 inspiring woodworking plans you need to try.


1. Exotic Gazebo
If you're looking for a backyard retreat, but aren't really feeling or don't have the woodworking skills to do the traditional octagonal gazebo, check out this easy and elegant plan. You'll be inspired by the simplicity of this Balinese Style backyard sanctuary.
You'll not only have a great place to escape, but its Balinese styling will add a little exotic flavor to your back yard.
2. Barbecue Deck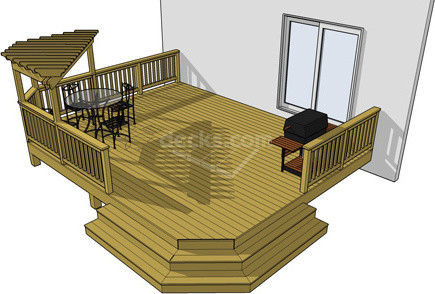 Just because summer is winding down and fall is around the corner doesn't mean you need to stop grilling and enjoying your back yard. This simple Atlanta Style deck is the perfect inspiration for getting you started.
This low-elevation beauty is a perfect fit for a backyard BBQ and you can get it done just in time for Labor Day.
Related Article: 23 Brilliant DIY Fire Pits You Can Build Easily
3. Backyard Hot Tub
Enjoying your backyard doesn't have to be limited to the spring, summer and fall months. With your own Backyard Hot Tub, you can even enjoy your back yard in cooler weather.
This isn't a project for an amateur, but it's not as hard as it might first seem to be. You might even incorporate it into your gazebo or barbecue deck.
4. Backyard Storage Shed
Do you hate tripping over lawn care equipment all winter or moving it out of the way because you're still storing it in your garage? With fall and winter around the corner, you'll want to get that equipment put away in a Backyard Storage Shed.
The glass in this little beauty also provides you with plenty of light to find whatever you're looking for.
5. Raised Patio Planter
We all have a list of honey-dos and summer seems to run out before we get them all done. If building a Raised Garden Planter for the patio is on your list, why not try out this attractive option.
Fall is bulb planting time, so get this one done so you won't have to build your own dog house.

6. Six Sided Gazebo
So, maybe you're more into a traditional gazebo. Here is a Six Sided Gazebo plan which might be more in line with what you're looking for.
This plan also comes with some handy tips for getting the job done right, especially making those tricky miter cuts. Build your simple, classic style backyard getaway and enjoy the last couple of months of outdoor fun.
7. Above Ground Pool Deck
If you happened to put in an above ground pool this summer or have had one sitting there for years, you might have noticed that your confidence in that wobbly pool ladder is fading fast. The best answer is an Above Ground Pool Deck.
This plan includes a number of tips to help you along as well.
8. Simple Shed With Playhouse
If you've got kids and have been considering building them a playhouse, why not combine that with the lawn equipment storage shed that you need too? This Simple Shed With Playhouse plan can help organize your clutter and make you very popular with your kids too.
9. Picnic Table
So, you spent all summer grilling and then eating in lawn chairs and spreading out your food with the card table on your patio. With Labor coming, it's time to build a Picnic Table.
This is a pretty simple job that anyone who has even basic woodworking skills can pull off, but it makes a huge difference when it comes to enjoying your backyard barbeque.
10. Garden Arbor
Creating an elegant entryway to your home is something that will make you popular with your significant other. This Garden Arbor plan is simple, but can make all the difference in making a great first impression.
11. Vineyard Pergola
Maybe the gazebo plan just wasn't quite what your backyard called for. You might do something a little bit different and go with this Vineyard Pergola.
Not only will it provide many of the same perks as a gazebo, but since most people have never heard of one, they'll be eager to come and take a look at your finished product.
12. Double Chair Patio Bench
You built your deck from one of our earlier plans, now it's time to add some furniture. This Double Chair Patio Bench provides not only a place to sit, but also a place to sit that plate of grilled goodness or a cool drink.
13. Log Cabin Dog House
Just in case you didn't get all of your summer honey dos finished, you might need a place to sleep during the fall and winter. Work your way back into the house by building this Log Cabin Dog House for your pet.
With this rustic cabin in your back yard, at least you'll have a comfortable place to share those long winter nights with Spot.
Time to Start Your Woodworking Project
With summer winding down it's a good idea to get those outdoor woodworking projects finished before you have to move indoors. With these 13 inspiring woodworking plans, you can start checking off that list of items that you've been to take care of for months or even years.
These simple plans range from simple and practical to exotic and elegant, but all of them serve the function of making your lawn, garden, backyard and patio more enjoyable. Don't put off those summer, outdoor projects any longer.
Find a plan that fits what you need and get to work before summer is over and you find yourself wishing that you'd gotten those backyard projects finished.
Want access to 16,000+ woodworking plans? Make sure you check out Ted's Woodworking plans here.