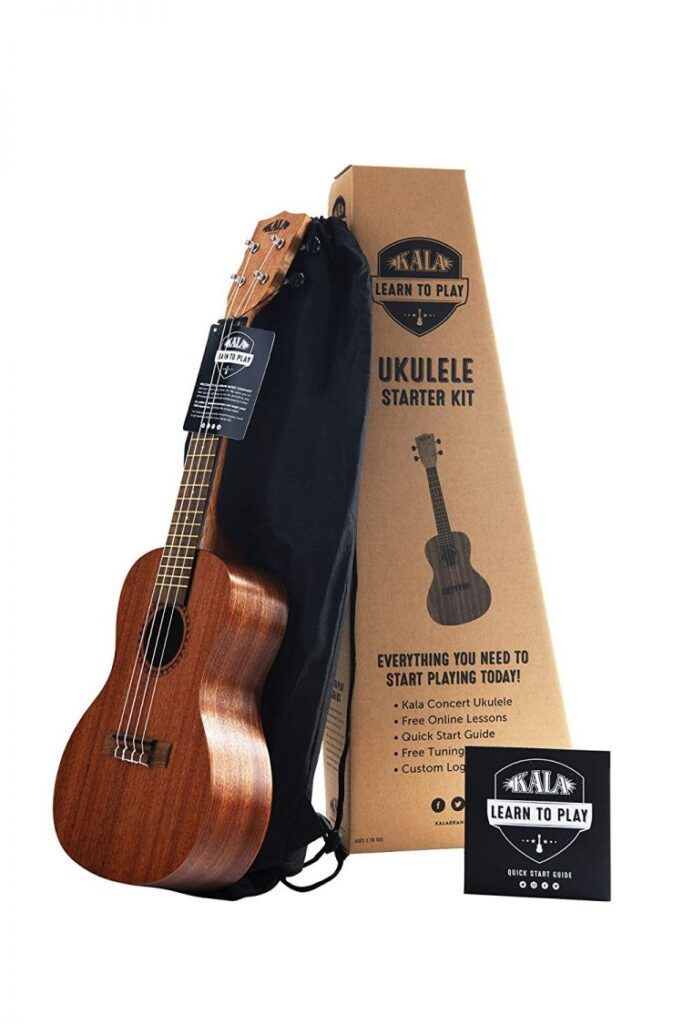 The beautiful music made by the ukulele is something to behold. Whether you're an avid player or you'd like to learn, this list contains some top-notch instruments that you will probably want to add to your collection.
If you are new to the whole ukulele scheme of things, you probably have no clue as to which model to choose or even what brands are the best. That's where we come into the picture. You see, we've taken it upon ourselves to find you the best ukuleles that money can buy. The products we have listed are all highly rated and reviewed on the Amazon platform by people, just like you.
On our list, Top Ukulele brands like Kala and Kangaroo. We want you to see familiar brands so that you'll feel confident in our picks. We've also included a variety of styles, looks, and price ranges. We understand that everyone's needs are different, including budgets.
Some of the instruments come with songbooks and instructions to help the aspiring ukulele player to learn a few things.
Are you ready to find the world's best ukulele to add to your collection? great! Let's hop on over to the list.

10. Everjoys Soprano Ukulele
This ukulele kit by Everyjoys is the perfect way to begin your musical journey. It delivers the melodic sound that can be heard on the Hawaiian islands. Everything you need to teach yourself how to play this amazing instrument is in this kit. It is an all-inclusive beginner's kit. It can be yours for just under $40.
According to the company, "Tune it to the desired note, then pull up on the string over the sound hole to give it a bit of a stretch. That'll take it down about 2 whole notes, tune it back up and repeat until it stays in tune. A lot of folks who maybe aren't used to stringed instruments, especially nylon strings, get frustrated, but don't worry, these are decent strings, they just need a good stretch"!
Pros
Comes with guitar-style gears
Designed with a blackwood fingerboard
Strings are bright and colorful
Pros
Does not come with a shoulder strap
---
9. Kala Learn To Play Color Chord Ukulele Starter Kit
Kala is a wonderful, musical instrument manufacturer and is known for making high0quality devices. In fact, it is one of the most sought-after ukulele brands in the world. This amazing ukulele has a color-coded fretboard that shows you exactly where to put your fingers to form the right chords. It has been designed with a beginner player in mind.
Here is a word from Kala, "Kala is known for high-quality instruments that have amazing tone and appearance. The Color Chord Ukulele is no exception. The Color Chord comes with Aquila Super Nylgut strings and premium open gear tuners to keep your strings in tune. The ukulele included in this pack is the perfect ukulele to start on, made of durable plastic with a matte finish. It sounds great and looks great".
Pros
Comes with a free Kala app and free online lessons
Comes with a tuner
Kala is the premier choice of popular artists like Twenty One Pilots and the Ukulele Orchestra of Great Britain
Cons
Body is plastic, not wood
---
8. 22.5″ Ukulele with Electronic Tuner, Strap, Picks
This is a small ukulele for little children in mind. Kids as young as 3 years old can effectively use this instrument. It is affordably priced at just under $29. It comes equipped with geared tuners and premium strings, made from special plastic, faux wood, and other sturdy materials that make it virtually unbreakable.
According to the manufacturer, "Although this Can Be Played by Adults As It's Not A Toy, It Was Designed with Future Young Musical Prodigies In Mind. Ages 3+ Top Wished For 2016 Christmas Gift by World Renown Kangaroo Brand".
Pros
Comes with a 46-page instructional booklet
Includes 2 guitar picks and a shoulder strap
Comes with a carrying case
Cons
Doesn't stay in tune very well
---
7. Donner Concert Ukulele Mahogany DUC-1 23 inch
Donner is known around the world for its amazing musical instruments. This instrument is a traditional concert ukulele with a classy mahogany body and four advanced carbon nylon strings. The beautiful body and neck bring you a richer and brighter sound.
Check out what Donner had to say, "A high-end acoustic guitar must reach the standard of precise and perfect craftsmanship, sweet sound, comfortable grip and lasting stability. It really needs to pay great effort to reach these standards. Because there are more than 100 processes in making acoustic guitar and DO NOT allow any slightest negligence in every process".
Pros
Careful screening of wood takes place when choosing ukulele materials
Smooth feeling and thick handle
High-quality tuning machines are sealed tuning pegs style, keep your ukulele playing in tune
Cons
Some complaints about the strings not being very good
---
6. Mahalo Rainbow Series Soprano Ukulele Starter Pack
This Mahalo ukulele is the complete starter pack that you need as a beginning player. It comes in a  variety of different colors and configurations. This instrument can be yours for just under $35. For that, you get a soprano ukulele, carrying bag, and a digital lesson download.
Here is a word from the manufacturer, "Mahalo Ukuleles has introduced a new model in the top-selling Rainbow series lineup, the MR1-TBR Package. The addition of a traditional trans-brown finish not only fills out the Rainbow Series finish options, it also introduces Mahalo's first introductory package, suitable for ukulele enthusiasts of all ages".
Pros
Features Aquila New Nylgut Strings, NuBone XB Bridge Saddles for enhanced tone, and Mahalo's signature dolphin-shaped, geared tuners
Comes with a password card that gives access to the musical download
Suited for musical players of all ages
Cons
Some complaints about the paint job being inferior
---
5. Kmise Ukulele Soprano Beginner Mahogany
Here we have a vintage ukulele that is made for the beginner artist. It is made with an 18:1 pure copper gear. The finer, stable tuner ensures the instrument has the best intonation and stays in tune longer. This ukulele can be yours for just under $50.
Here is what the company has to say about the specially designed bridge, "The specially designed ukulele bridge allows you to change the strings easily if the string broke or you need to change it to a left-handed one".
Pros
Soft D'Addario strings
Lifetime free string replacement
Online installation instructions
Equipped with lessons for beginners
Cons
Fretboard edges are not smooth
---
4. ADM Ukulele 21 Inch Soprano Wood Beginner Kit
This easy-to-play ukulele comes in a variety of colors and is just under $37. The selected basswood fingerboard and bridge offer both a sturdy construction and smooth touch.
According to the company, "The waterproof nylon bag offers great protection and portability; The clip-on tuner with LED display helps you to tune easily; The hook-in strap allows you to play in standing position; The polishing cloth can keep it clean; The extra string gives you one more choice; And the plectrums are simply gifts".
Pros
Suitable for children, adults, novices, or professionals
100% money-back guarantee if you are not satisfied
Comes with a strap
Cons
A few complaints about the frets not being positioned, correctly
---
3. Diamond Head DU-106 Rainbow Soprano Ukulele
Here we have a beautiful ukulele that comes in an assortment of colors. It rolls in at just under $28. It is a soprano ukulele and is very easy to learn with an included 3-chord chart. The strong maple wood body and neck created with a high gloss definition make for long-lasting durability.
Here is a word from the Diamond Head company, "Whether you're laying on the beach in Waikiki or freezing in Fairbanks, a Diamond Head Ukulele will always put a smile on your face! The ukulele craze started at the Hawaiian Pavilion at the Pan Pacific Exposition in San Francisco, California in 1915. The San Francisco/Hawaii connection has remained intact until today. San Francisco-based Saga Musical Instruments produces the world-famous Diamond Head Ukulele lines! Just as Diamond Head Mountain towers above Waikiki Beach in Hawaii, Diamond Head Ukes rise above others–in both quality and value. Strum a Diamond Head Uke and put a little island vacation in your day"!
Pros
Geared guitar style tuners with 15:1 gear ratio make tuning easy
Comfortably shaped mahogany neck and polished frets
Easy Tie-On bridge makes changing strings a snap and decreases breakage
Cons
Some issues with fret placements
---
2. Ukulele Concert Size Bundle From Lohanu
Here we have a high-quality ukulele bundle from the Lohanu company. It can be yours for just under $90. This ukulele is of the concert size variety and is only 3 inches bigger than a soprano instrument, however, it produces much better sound. You'll appreciate the wider-spaced frets which are better for adult players and kids from ages 9 and up.
Here is what the manufacturer has to say about the gorgeous design, "24 inches long, Sapele/Mahogany Top, Back & Sides & Neck, Rosewood Fingerboard, Aquila Strings Installed (Best Ukulele Strings), Handmade ABS Bindings, Chrome die cast tuning gears keeps ukulele in tune"!
Pros
Comes with bonus ukulele lessons
Unconditional lifetime warranty
Comes with a helpful "How to Tune Your Ukulele" video
Cons
Some complaints of the ukulele coming apart in a few places
---
1. Kala 4-String Ukulele, Light Mahogany Stain, LTP-S
Here we have another Kala ukulele that is made with high-quality materials and is perfect for budding instrumentalists. Includes FREE online lessons, FREE Kala ukulele app with tuner, Kala logo tote bag, and How to Play Ukulele Quick Start Booklet. You can have all of this for just under $60.
Here is a word from the Kala company, "Quality craftsmanship, amazing tone, and the largest selection of models anywhere makes Kala the industry leader of the modern ukulele movement for more than a decade. We value our players and have earned their trust by providing them with affordable, easy-to-play instruments that help them grow as musicians".
Pros
Comes with an app-enabled tuner
Equipped with online lessons
Kala is a highly sought after ukulele company
Cons
The app is only helpful for 4 days. After the trial period, you must purchase it
Why We Chose Kala 4-String Ukulele, Light Mahogany Stain, LTP-S As Our Top Choice…
Wow! That sure is a lot of information about many different types of ukuleles. Some are for advanced players while others are for beginners. Regardless of what type of musician you are, we are confident you'll find your next ukulele from our list. Each of these instruments received high star ratings and customer reviews on the Amazon platform.
We had to choose a product for our #1 spot so we decided to go with the Kala 4-String Ukulele, Light Mahogany Stain, LTP-S. This instrument has everything a musician could ever want in a ukulele. The Kala brand is recognized throughout the musical community as the most sought-after ukulele brand in the world.
Which ukulele will you be purchasing today? We sincerely hope you consider our top choice as it has gotten the best reviews and holds almost a 5-star rating on Amazon. However, any ukulele from this list will be an excellent choice.
When you prepare to check out, make sure you click on the yellow Amazon button to ensure a safe and seamless checkout experience.