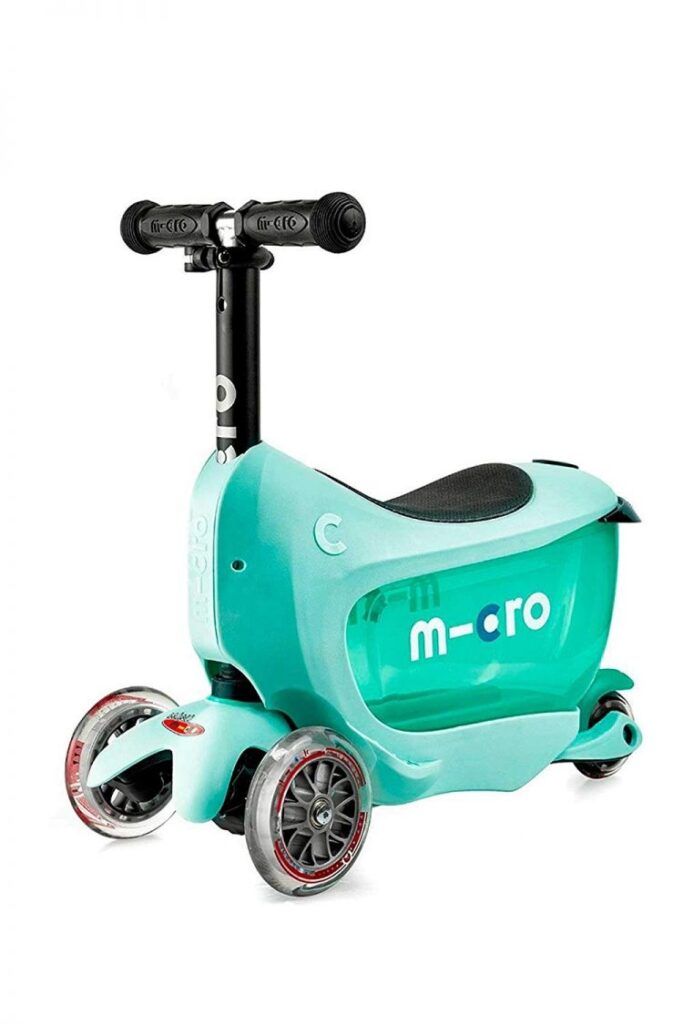 Having a scooter as a kid is really exciting! It allows your child to ride up and down the sidewalk, at the park, and in the driveway for hours of outdoor fun. A scooter falls somewhere between a wagon and bike. The unique design and features are intriguing to children.
We can all remember having our first scooter as a child, or at least, wanting one. Imagine your kid's excitement when you present him or her with a colorful and fun scooter! Scooters make great gifts.
Choosing The Right Scooter For Your Kid
There's a large variety of scooters on the market to choose from, but how do you know which is the right one for your child? Below, we've categorized the most important features to consider during your search.
Noise
Some scooters can be noisy, which isn't ideal if your child wishes to travel at high speeds in your neighborhood. A noisy scooter can be an annoyance for most children and parents, but it's also an indication that the scooter hasn't been made from high-quality, durable materials. 
Generally speaking, if you purchase a cheap scooter, it'll be made from cheap materials which can affect how the scooter performs and sounds.
A great way to test the scooter is to pick it up in the store and move it around to test how it sounds. Does it seem secure and sturdy or does it rattle each time you move it? While listening to the scooter, consider how it'll handle bumpy pavements or traveling at fast speeds on uneven surfaces.
Weight and Portability
Another important consideration is how much the scooter weighs and its portability. You'll discover that they come in different weights and sizes, depending on the age it's aimed at and the brand who manufactured it. If your child loves to travel at high speeds, you don't want a heavy scooter to hold them back and restrict their performance.
You should also consider portability if this is an important feature for you. Do you need the scooter to be light enough that you can carry it for your child when they become too tired? Perhaps you require comfortable straps for easy transportation on long journeys. Alternatively, maybe you're not bothered about portability so long as the scooter is enjoyable for your child.
Balance and Stability
It's essential that your child feels in control and comfortable while riding the scooter or they could hurt themselves. To make the best decision for your child, consider their current skills of riding a bike or scooter. Do they need stabilizers or are they confident to ride by themselves?
During your search, you'll discover two-wheeled and three-wheeled scooters. The former require your child's balance to steer the handlebars as there's a lot of tasks to think about during their ride. Alternatively, a three-wheeled scooter is more suitable for confident kids who don't require assistance in balance and stability while riding.
While looking for the best option for your child in a store, invite them to try both options and encourage them to use both feet to push off on the scooter.
Safety
Finally, safety is the most important aspect for your child since you want them to remain secure while having fun at the same time. Thankfully, many scooters are designed with safety in mind, such as being equipped with powerful brakes to bring the scooter to a complete hault. The wheels should also be durable and provide a great amount of friction when your child is riding the scooter.
The Top 10 Best Kids Scooters To Buy Right Now
So, how do you know which scooter to choose for your child? After all, the internet is crawling with loads of them. Amazon alone has hundreds of listings. Well, that's where we come in. You see, we scoured Amazon for the top 10 best and brightest scooters, available.
You'll see brands like Micro Kickboard and Den Haven. We want you to have access to the best of the best. Each scooter on our list sports varying features, designs, and sizes. We've included a variety of price ranges, too.
So, are you ready to find the perfect scooter for your child? Great! Let's roll on over to the list.

10. LaScoota 2-in-1 Kick Scooter with Removable Seat
This 2-in-1 scooter comes with an adjustable seat. That means it grows with your child. Little ones enjoy sitting on the scooter while older kids like to stand and scoot around. As you scoot, the lights flash and blink on the wheels. Kids love to see this feature. This scooter can be yours for just under $70.
Take a look at what the manufacturer has to say, "Our advanced scooter features everything you love, with a couple of innovative extras. You child can scoot standing or sitting and the T-bar has 4 adjustable height options to accommodate growing children. The smooth-gliding wheels, low-to-the-ground deck, and stable steering all make LaScoota perfect for preschoolers and kindergarteners. It features a lean-to-steer design where children steer using their body weight to lean right and left, learning to lean into a turn, while developing the balance and coordination used in many sports".
Pros
Designed with a soft handlebar grip
Extra-strong construction
Extra-wide, slip resistant deck
Cons
Some issues reported with the base not allowing the seat to be adjusted to the lowest setting
---
9. Micro Kickboard Mini Scooter
Are you ready for one of the most fun scooters you've ever owned? This Micro Kickboard scooter comes in a variety of different colors and rolls in at just under $60. It is the highest rated scooter for 2-5-year-olds.
Check out what the manufacturer has to say, "The Micro Mini Kickboard is the highest rated scooter for children aged 2-5. Your child will love "surfing the sidewalk" on their Micro Mini, and you will love the years of fun and exercise it provides. The Mini is one of the best value presents you will buy your child. The smooth gliding Micro Mini's 3 wheels, low-to-the-ground deck, and safe steering all contribute to stability that makes the Mini perfect for pre-schoolers and kindergartners. What makes the Mini unique and fun is the lean-to-steer design; children steer by using their body weight to lean right and left, intuitively learning to lean into a turn, while developing balance and coordination used in many sports. The Micro Mini has the smoothest, quietest ride available thanks to high-quality wheels and a flexible fiberglass reinforced deck, which together absorb bumps in the sidewalk. Safety certified by the CPSC, the Micro Mini is recommended for children up to 44lbs. SAFETY – For best protection, we strongly recommend that children wear helmets and knee pads when riding. Nonmarking wheels allow children to learn to scoot in the safety of your home. AWARDS – ASTRA Best Toy Award 2014, Oppenheim Toy Portfolio Platinum, Gold and SNAP Award Seals 2009, 2010 and 2011, Parents' Choice Award 2010, Learning Express Best Toy Award Outdoor 2009, Tillywig Top Fun Award 2014″.
Pros
Designed with non-marking wheels
Has received a number of toy awards
Known to be safe
Cons
Some issues with the brakes have been reported
---
8. Den Haven Scooter for Kids
This scooter comes in two different colors. It is designed to be a 3-wheel kick scooter with a t-style handlebar that locks into place. It is constructed of sturdy nylon composites and metal. It can be yours for just under $30.
Here is a message from the company about the stable 3-wheel design, "Our unique 3-wheel design gives the kick scooter both added stability and safety. No need for a kickstand or for unbalanced riding. Wide deck and 3-wheel design make riding fun and easy for kids of any skill level. Simply hop on and start scooting. Quality PU wheels are both smooth and quiet and high-quality bearings reduce vibration and make for a smoother ride".
Pros
Equipped with a durable aluminum frame
T-bar is adjustable
Easy to use rear brake
Cons
some reports of the rear brakes popping off
---
7. Razor A Scooter
The Razor is the original kick scooter/ It is crafted from durable aircraft-grade aluminum with colored highlights. It sports a patented T-tube and deck design that folds down for portability.
Here is a word from the manufacturer, "The year 2000 was a phenomenal success for the original A model Razor kick scooter. From hip city dwellers to celebrities, to businessmen to kids, the Razor kick scooter was one of the most talked-about, desired, and best selling items of 2000, winning the prestigious Toy of the Year award from the Toy Industry Association".
Pros
Foam grips
Urethane wheels
Supports up to 143 pounds
Cons
sometimes the nuts and bolts come loose and need to be tightened
---
6. Radio Flyer My 1st Scooter
Radio Flyer is a name that almost everyone knows and trusts. This cute little scooter is perfect for smaller children. It has been designed for beginner riders and will help develop a child's balance and coordination. The wide base helps to encourage better stability. This scooter is available in a variety of colors and can be yours for just under $35.
Here is a message from Radio Flyer, "The My 1st Scooter Red is perfect for beginner riders, and is designed to help develop balance and coordination. It also features a wide base that is low to the ground and two wheels in front for maximum stability and safety. The turning radius is specially designed to provide additional safety without compromising mobility. The comfort hand grips and textured deck help younger riders stay on the scooter".
Pros
Specially designed turning radius provides safety without compromising mobility
Textured deck for added traction
Can hold up to 50 pounds
Cons
---
5. Razor Jr. Lil' Kick Scooter
Here we have another scooter that is geared towards beginning riders. It is perfect for smaller children and comes in either blue or pink. You'll love the welded steel frame that ensures durability and safety. The low deck makes scooting easy.
Check out what the company has to say, "The Lil' Kick's stand-alone, three-wheel design makes for a more stable ride that helps young riders build coordination. The extra-wide, slip-resistant deck keeps tots on their little toes".
Pros
Handlebars are made of padded steel
Slip-resistant deck made from polypropylene
Extra-large polymer wheels
Cons
Some complaints that the back wheel gets in the way of your child's ankle
---
4. Mongoose Air Tire Kid's Scooter
This Mongoose scooter is great for experienced riders who like to go fast! It has inflated wheels for a super light ride. Race up and down paved streets, dirt roads, and many other types of terrain. You'll love the BMX style alloy caliper hand brakes that provide confident speed control and instant stopping ability.
Here is what the manufacturer had to say, "
Have you been frustrated with the inline skate wheel scooters that clunk over sidewalks and get hung up on the smallest pebble? Fear sand no more, the Mongoose Expo can go over the top all of that and more! With this scooter and its 12-inch tires, you can go almost every place a bike can go! Roll over grass or loose pavement with grit. The Expo will have others envious of your all-terrain capability".
Pros
Makes doing tricks, easy
Equipped with a large deck
Thick air tires can travel over just about anything
Cons
---
3. Plastic Scooter Board with Safety Handles
This is a different kind of scooter, but a lot of fun, nonetheless. It comes in a variety of bright colors and can be yours for just under $18. It helps children to improve their balance and coordination while having fun! This scooter can be used at home or in gym class.
Check out what the manufacturer has to say, "Kids can scoot, glide, and roll around the room while building core strength and coordination on these handled scooter boards. Made of durable plastic, they are easily cleaned and have plastic wheels that won't damage floors. Handles keep fingers safe while providing steering and control of the board. Choose between blue, pink, neon green, and the heavy-duty red model".
Pros
Handles keep hands and fingers safe while scooting
Made of durable high-impact polyethylene
Plastic wheels keep marks off the floors
Cons
Some complaints of the metal framework bending
---
2. Razor A5 Lux Scooter
This Razor scooter is made with an anodized finish and kickstand. It is meant for ages 8 and up. The max rider weight shouldn't exceed 220 pounds. This scooter rolls in at just under $86. It is made from amazingly strong aircraft-grade aluminum t-tube and deck.
here is a message from the company, "The popular kick scooter in a deluxe size. With its extra-large urethane wheels, the A5 Lux is the smoothest ride around. Easy to fold and ready to go, the A5 has a super strong aluminum t-tube and deck to comfortably support riders up to 220 pounds".
Pros
Patented folding system
Adjustable handlebars
Built for larger riders
Cons
Some complaints of the scooter being "flimsy"
---
1. Razor E100 Electric Scooter
This electric Razor scooter is the ultimate scooter experience. It has powerful speeds of up to 10 miles per hour. Zip and zoom like a pro! This scooter is intended for older children and adults. It can be yours for just under $180. You don't have to charge the scooter for very long before it is ready to ride.
Check out what the manufacturer has to say, "High torque chain driven motor with twist grip acceleration control allow the rider to maintain speed with hand operated brake for speed control, an 8-inch pneumatic front tire with 125mm urethane rear wheel for a smooth ride, rechargeable 24-volt battery included".
Pros
Parent's Choice Award winner
Twist grip throttle accelerator control
Up to 40 minutes of continuous use
Cons
Why We Chose Razor E100 Electric Scooter As Our Top Choice…
Wow! That's a lot of information about scooters. We've included scooters for little children all the way up to big kids who are experienced riders. We hope you were able to find the model that suits your child's needs. Each of the products on this list is backed by rave reviews and high star Amazon ratings.
We had to choose a scooter for our #1 spot so we decided to go with the Razor E100 Electric Scooter. This scooter is everything you could ever want in a rideable toy of it's kind. It can go up to 10 mph! It has also won the Parent's Choice Award. That's pretty impressive.
Which scooter will you be purchasing, today? We think you should go with the electric Razor, but we're a bit biased. Whichever scooter you choose from this list is bound to be an excellent pick. Be sure to click on the yellow Amazon button for a secure checkout experience.