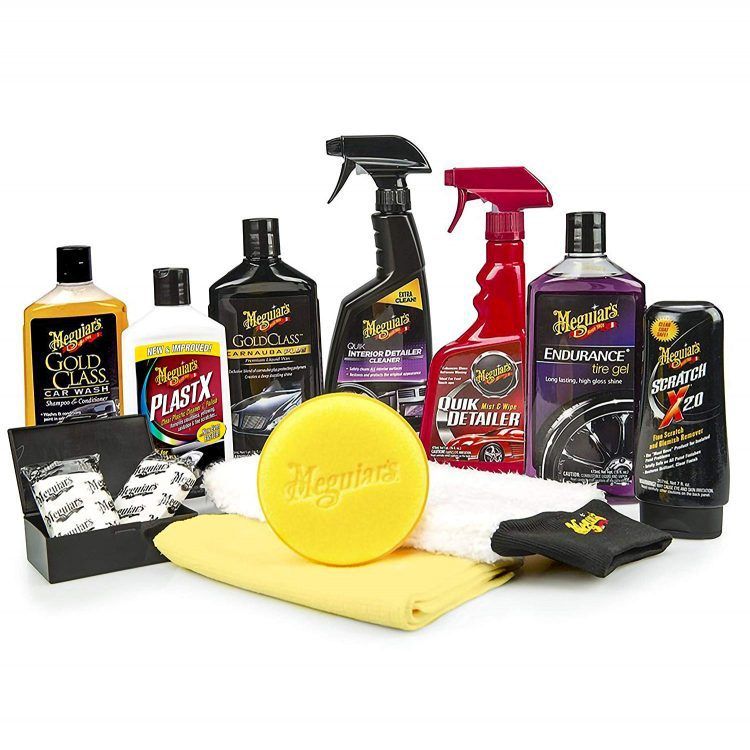 Keeping your car looking great requires an outstanding wax. You simply can't wash and go and expect your vehicle's exterior to hold up to the tests of time. You should know that not all waxes are created equally. Some, are a lot better than others. If you are new to car waxing, you may feel overwhelmed as to which product to choose. This is understandable because there are dozens upon dozens of different formulas and brands on the market, today.
Perhaps, you're a long-time wax user and simply wish to change up your routine a bit. Maybe the company you've used for years suddenly changed their formula. Ugh!
The Benefits of Waxing Your Car
Before we share the top 10 car waxes available on the market right now, let's discuss the benefits of waxing your car in the first place.
Keeps Your Paint Vibrant
The top car wax keeps the color of your paint vibrant and the outer material of the car protected.
Reduces The Number of Washes
Car wax provides a protective layer, which has many benefits to your vehicle. One advantage is that your vehicle looks cleaner and won't need washing as often. From the first time you wax your car, you'll notice that it shines and gleams. The added sparkle will help you fall in love with your car all over again.
Saves You Money at The Garage
By being proactive and looking after your car, you'll extend its lifespan and not have to take it to the garage as often. Part of looking after your car's exterior gets you back in touch with your vehicle so you're more likely to look after it and drive carefully.
Most mechanics suggest that regularly waxing your car provides a sealed exterior that prevents any damage, so when a stone hits your car, it won't leave a mark like it would on an unwaxed car.
Extra Protection Against Marks and Scratches
Car wax is made from shine enhances and wax-hardeners that provide a clear coat on your car's body. Each time you wash your car, the circular motion can leave traces of scratches where stones and debris have rubbed into the car's body. By adding a layer of wax, you allow these scratches to minimize, while ensuring that next time you wash your car, the dirt particles won't embed into your car.
Protects Your Car From Environmental Exposure
Vehicles are exposed to rain, snow, sun, wind, ultraviolet rays, and more weather elements on a daily basis. These factors can damage your car's bodywork and pain. One example of this is when your car paint begins to fade and sometimes chip. However, if you regularly apply wax, you'll provide a protective layer that reduces your car's exposure to these effects.
How To Choose a Car Wax
Now that you're aware of the benefits of using a car wax, how can you discover the best product for you? First, we suggest considering what type of wax works best for your car's body.
Wax Type
Liquid wax can be difficult to apply and you need some patience, but most products dry in less than a minute and leave a glossy finish to your car. It also gives you a good opportunity to get close and inspect your vehicle for any scratches and wear and tear.
Paste waxes are much easier to apply and last longer since you don't need as much product. As the consistency is thicker than liquid, you create a stronger protective coat on your car leaving it less prone to scratches.
Finally, spray waxes are convenient and quick to apply. They're a great additional to liquid waxes and to use as added protection, though their performance isn't as durable. Spray waxes have a bigger emphasis on convenience so your car won't be as shiny once you're done.
The Top 10 Best Car Waxes To Buy
Well, you have come to the right place. We've taken a look at many different waxes and narrowed down the best to just ten. Each product on our list has high star ratings and Amazon reviews. You can have complete confidence in our picks. You'll see brands like Meguiar's and CarGuys. So, are you ready to pick a new wax for your car? I'm sure she'd love a new beauty treatment. Let's peel out and head on over to the list!
10. HydroSilex Recharge
Do you want your car to gleam and shine like the sun? If yes, give this super gloss waxing product a shot! It contains a high concentration of nanoparticles that fill the pores of paint to create a deep mirror finish. This product creates an extremely slick surface that makes cleaning super easy.
Check out what the manufacturer has to say, "HydroSilex Recharge is a universal product that protects virtually any type of surface. The installation is extremely easy and once cured, it creates a transparent top layer that adds gloss and protects the substrate from the elements. Recharge can be used as a stand-alone product or as a maintenance coating to revitalize other ceramic coating brands. You do not need to be certified or trained to apply Recharge, it's that simple and easy to use"!
Pros
Offers UV-protection
Equipped with anti-corrosion and anti-oxidation
A little bit goes a long way
Cons
Pricey, at $35 per 16 oz. bottle
9. CarGuys Liquid Wax – The Ultimate Car Wax
This is an incredible product designed by the Car Guys brand. It only needs to be applied 1-2 times per year! One bottle costs just under $40, but it'll last you a very long time. You can purchase this product in two different sizes.
Check out what the company has to say, "Are you tired of using products that look great, but don't last? You won't experience that here! Advanced and newly PATENTED additives boost our products protection and durability! It's like giving steroids to our products! Stop using inferior sealants, car waxes and polishes made with old science and technology! This will outlast and outshine them all"!
You'll love how easy to apply and buff this wax is. Your car has never looked so great. No more getting an arm workout from trying to wax your car.
Pros
The product is super slick and provides a mirror shine
Made with advanced technology
Provides UV-protection
Can be used on all types of vehicles including boats, RVs, and motorcycles
Cons
8. Turtle Wax T-223 Super Hard Shell Paste Wax
For decades, Turtle Wax has been a favorite amongst gearheads. It is super affordable at just under $7 per pot. This wax is available in 2 different sizes.
Turtle Wax is described as being "legendary" because it provides a protective barrier from the elements and UV-rays. It also leaves your car looking shiny and new.
Pros
World's leading car wax
Easy on and easy off formula that lasts for up to one year
Fights harmful UV rays
Cons
Some complaints of the wax leaving streaks
7. Nu Finish Liquid Car Polish
If you want more bang for your buck, Nu Finish wax is the way to go. You can get yourself a bottle for just under $7. It has been rated the #1 car polish by leading consumer testing magazines for protection, durability, gloss improvement, and best retail value. Both the liquid and paste versions of this product have been top-rated.
Here is a word from the company, "Nu Finish Liquid Car Polish is the #1 rated car polish, as determined by leading consumer magazines, for its consistent combination of protection, durability, gloss improvement and retail value. What makes Nu Finish so effective is its wax-free formula, which makes it both easier to apply in all temperature and sun conditions and more durable. To use simply apply a small amount of Nu Finish to a clean vehicle exterior with a damp cloth, let it dry to a haze and wipe off – no heavy rubbing or buffing is needed. The wax-free Nu Finish formula provides all-weather protection to your car and can also be used to protect a wide range of other vehicles and items".
Pros
No heavy rubbing or buffing needed
Car polish doesn't actually contain wax, which is something some people prefer
Can be used to protect a variety of items
Cons
Some users have claimed this product stains plastic
6. Chemical Guys WAC_201_16 Butter Wet Wax
This wax is made by the Chemical Guys, a new and rising company. The wax is made from a 100% carnauba-based formula. It comes in 4 different sizes. This listing is for 16 oz. and rolls in at just under $18.
The formula has been newly revamped and provides you with an even easier application. Just as the name suggests, it glides on like butter. You'll love the deep, wet look that it gives to any paintwork.
Here is a message from the manufacturer, "Chemical Guys Butter Wet Wax is an all new and improved formula that delivers an unmatched surface shine and deep wet look. Butter Wet Wax goes on easier, shines brighter and lasts longer than previous generations. This improved blend of natural Carnauba, polymers, and resins leaves your car shining as if it were just washed".
Pros
Improved level of protection
UVA and UVB protection
Easy on and easy off application
Cons
Some complaints of the product not lasting very long
5. Aero Cosmetics Wet or Waterless Car Wash Wax Kit
This product comes highly recommended by the Amazon community. It can be in your garage for just under $38. What makes this product unique is that it is formulated as both a car wash and wax in one. No water needed!
Here is a note from the company, "Gently Cleans and Protects while leaving a Non-Stick UV Protective Coating on All Vehicle surfaces. Just Spray on and Wipe Dry. Wash and Wax Anywhere, Anytime, Parking Lots, Garages, Work, School, Apartments, RV Parks, and more. Use as a Waterless Wash or Wax as You Dry your just washed Vehicle. 144oz will Waterless Wash up to 36 cars or Wax As You Dry 57 cars".
This product is noted as being non-toxic and human and pet-friendly. There is no ammonia in the formula. It is used by the military and even on Air Force One.
Pros
30 years of experience in creating car care products
Very easy to use
Stays cleaner longer and cleans up with ease
Cons
some buyers have claimed the wax doesn't last long
4. CarGuys Hybrid Wax Sealant
This amazing wax comes in two different sizes. This listing is for 16 oz. and rolls in at just under $20. We like this product because it is made with advanced science. If you're tired of using products that look great but don't last, consider using this Car Guys formula, instead!
Check out what the manufacturer has to say about this product, "Ever spend hours waxing and detailing your car motorcycle truck or RV? You feel so relieved to be at the final step …buffing the wax off! You grab that towel to finish the job, but look in horror to see you turned your rubber and plastic white!! Never experience that again! This formula is safe to apply onto EVERY SURFACE without worrying about white residue or streaks"!
Pros
Brilliant show car shine
Finish your vehicle in just 15 minutes
If you aren't happy, you can get a full refund
Cons
The vehicle needs to be absolutely cool to the touch or this product tends to be sticky and goopy
3. Meguiar's G18216 Ultimate Liquid Wax
Meguiar's is a trusted source for car care products and this wax is no exception. It comes in two handy sizes. This listing is for a 16 oz. bottle and runs you just under $16. In just one easy step, the formula delivers maximum synthetic protection. You'll love how durable your paint will become after applying this wax. Plus, the color has never looked better!
Here is a word from the company, "Meguiar's Ultimate Liquid Wax uses Meguiar's ThinFilm technology to deliver our easiest application and removal, even if you have to wax in full sun! Meguiar's proprietary Hydrophobic Polymer Technology increases surface tension so water beads and rolls right off. We've re-set the bar with a pure synthetic polymer wax that provides extended protection with amplified reflectivity for incredible depth & mirror-like shine. It does all of this without leaving white residue on plastic and rubber".
Pros
Effortless application
Water rolls right off the paint
Safe and versatile
Cons
Some complaints of the formula leaving behind an oily haze, streaks, and ghosting
2. Mothers 05500 California Gold Brazilian Carnauba Wax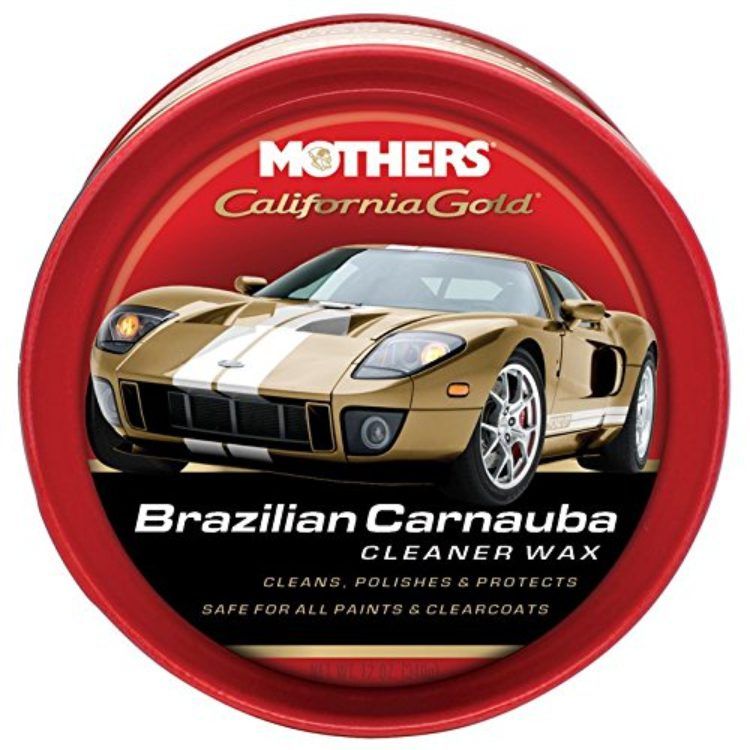 Mothers is an affordable brand of car wax that comes in two different size packs. This listing is for a 12 oz. pot and it comes in at just under $10. You'll love the formulation of this product as it is meant to clean and protect in just one application.
Here is a word from the company, "Mothers California Gold Brazilian Carnauba Cleaner Wax Paste – 12 ounce has been designed to be the one-step plan for paint preservation. It is formulated to clean and protect in just one application. It uses the same Brazilian number one yellow carnauba that makes the pure Brazilian carnauba wax so special. It combines it with a light polish that will smooth minor flaws and make your paint snap. The Brazilian carnauba cleaner wax is especially effective on fiberglass and gel coats. It was previously known as the California gold carnauba cleaner wax".
Pros
Effective on fiberglass and gel coats
Contains heat-resistant carnauba wax
Regular use creates long-lasting benefits to your vehicle's exterior
Cons
Some people don't like the chemical smell and feel that this product leaves on their hands
1. 3M 39526 Perfect-It Show Car Paste Wax
3M is a leader in a variety of products, and car wax is at the top of the list. For just under $21, you can bring this little pot of waxing joy, home. It comes in a large variety of sizes and formulas, too.
This wax is known to protect your car's exterior while making it shine like diamonds. You'll love the deeply rich, high gloss, luxurious finish.
Here is a message from the manufacturer, "3M Perfect-It Show Car Paste Wax delivers an ultra-high gloss finish to your vehicle's painted surfaces. With a formula that includes natural carnauba wax, it creates the 'wet look' – a deep, lustrous shine favored by professional auto detailers. The performance wax applies easily by hand or machine for exceptional durability, helping protect paint finishes from the weather".
Pros
Creates a show-quality finish
Contains rare, natural waxes that leave your car with that highly sought-after "wet look"
Resists moisture to protect paint finishes from spotting and fading
Cons
Not a great choice for clear coated cars
Why We Chose 3M 39526 Perfect-It Show Car Paste Wax As Our Top Choice…
We covered a lot of information about car wax products. Hopefully, you were able to take that info and come to a conclusion as to which formula will work best for your needs. Each of the products on our list is highly rated and reviewed on Amazon.
We stand behind each of the waxes on our list, but we had to choose one for our #1 spot. So, we decided to go with 3M 39526 Perfect-It Show Car Paste Wax. This wax is everything you need and want in a car wax. It leaves your vehicle looking glossy, shiny, and with that signature "wet look". Plus, it acts as a protective barrier for your car's exterior.
Which of these car waxes will you be purchasing, today? Honestly, we are a little biased and hope you go with our top choice. However, any wax on this list is sure to be of excellent quality.
When you are ready to make your purchase, click on the yellow Amazon button to ensure a quick and easy buying experience.