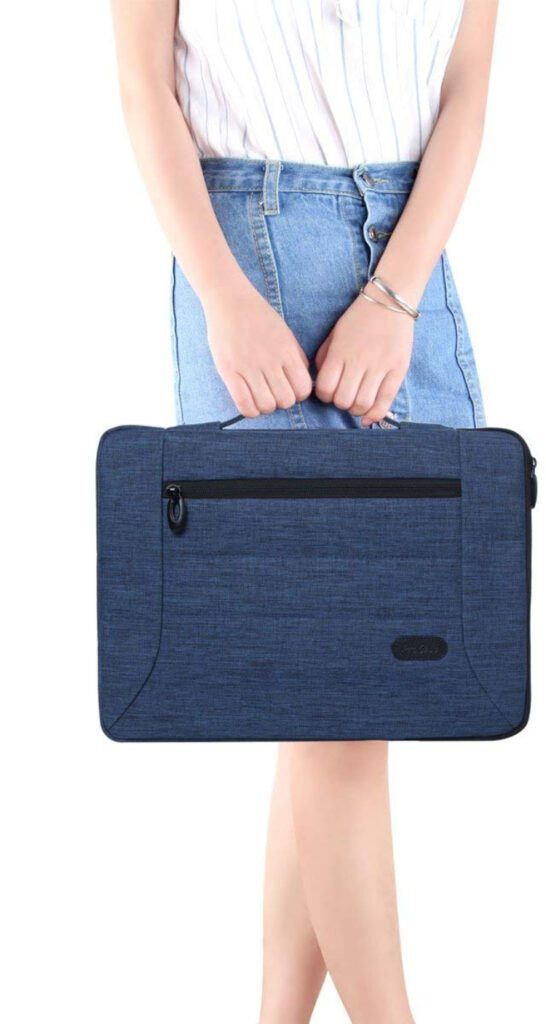 We all need a suitable place to keep our laptops when they aren't being used. Keeping them on your desk, on the floor, or next to your bed won't cut it when it comes to keeping your laptop free from damages. Anything can happen, like someone stepping on your gear!
There are plenty of laptop cases to choose from, so how on earth do you know which oneis the best laptop bag? Most people don't have time to sit on Amazon and look through dozens upon dozens of laptop cases. That's where we come in. You see, we did all of the legwork for you. We scoured Amazon and chose the top 10 best laptop cases that we could find.
On our list, you'll see brands like MOSIO and ProCase.
The Difference Between Laptop Bags and Sleeves
During your search, you may have discovered laptop bag and sleeves, but what are the main differences and which one is best for you? Laptop sleeves don't have any handles, as they're designed to carry under your arm and take up minimal space in your backpack or on your desk. The materials are different, as a sleeve is made from flexible fabrics and softer materials to keep it compact and as lightweight as possible.
On the other hand, bags have a rigid design and are created to withstand some battles on public transport and general travel. They also come with straps to replace a traditional briefcase and make them more portable to carry. 
To decipher between the two, consider your laptop size. If you own a tiny tablet, a sleeve is convenient for protecting the screen while placing it in your work bag. Alternatively, larger laptops require more support from a laptop bag. Bags also have extra compartments to keep a keyboard, your phone, keys, notebook, etc., conveniently and safely. stored
Factors To Consider When Choosing a Laptop Bag
Finding the perfect laptop bag is more challenging than you'd anticipating, as there are so many shapes, designs, sizes, and features. Below, we've provided some characteristics to consider during your search to discover the best option for you.
Additional Storage
Earlier, we briefly mentioned that some laptop bags are equipped with storage compartments for your accessories. Is this an important feature for you? Some people are happy to only use their laptop for working, while others require a separate keyboard, mouse, and more. If the latter sounds like you, consider a laptop bag with numerous compartments to protect your laptop banging against other accessories. This will easily provide easy access to find your belongings.
Durability and Quality
Your chosen laptop bag needs to be long-lasting so you don't have to constantly renew it and to keep your computer protected. First, choose a durable fabric that will protect your device from scratches and marks. You may also want a waterproof interior to prevent any moisture damaging your laptop.
A scratch-resistant lining is great to protect your devices when inside your bag. The last thing you want is your laptop getting scratched each time you store it in the bag for 'protection'. You may even want extra padding on the interior to further protect your items.
Ergonomics
If you'll be traveling far with your laptop bag, you'll require a lightweight design that's comfortable to carry. Make sure the straps are easily adjustable and fit to your body. Padded straps work wonders for long walks from the train to the office. You should also consider the ergonomics of the bag. Is it weighted and holds you down? Can you move the bag to your back and side, or are you restricted to movement?
The Top 10 Best Laptop Bags To Buy
We've included laptop bags of varying sizes, styles, and features. Honestly, we think you'll be able to find a suitable bag for your laptop from our collection.
Is price a concern for you? we've included plenty of affordable options, so no worries. Are you ready to find the perfect laptop bag? Awesome! Let's get to the list.

10. ProCase 12-12.9 Inch Laptop Sleeve Case Cover Bag
This laptop bag is for a 12 – 12.9-inch computer. it rolls in at just under $20. It comes in 3 different sizes and colors. Here are the external measurements: 13 x 9.5 x 1.25 inches, internal dimensions: 12.5 x 9 x 1 inches; compatible with 13″ Macbook Pro / 12″ Macbook / 11″ Macbook Air, Google Pixelbook, Surface Pro 6 / Surface Pro 2017 / Pro 4 3, iPad Pro 12.9″, Most 11″-12″ Laptop Ultrabook Notebook MacBook Chromebook.
Check out what the company has to say about this laptop case, "Water-resistant exterior material and soft lining protect your laptop against water, dust, dirt, scratches and accidental bumps. An extra compartment in front enables to store your accessories along with the laptop. Carry in the way you like with the extendable hand strap. Durable and professional laptop bag brings convenience and functionality into your daily life".
Pros
Protects your laptop with durable canvas material that is water-resistant
Padded main compartment is shock absorbent
Side opening design for easily putting your laptop in and taking it out
Cons
Some complaints about the front pocket being rather small
---
9. MOSISO Polyester Fabric Sleeve Case Cover Laptop
This fabulous laptop bag is multifunctional in that it acts as a briefcase, bookbag, laptop case, etc. It is perfect for school or work. The case comes in 10 different colors and a variety of sizes. Here are the internal dimensions of this particular listing: 13.58 x 0.79 x 9.65 inches (L x W x H); External Dimensions: 14.37 x 0.79 x 10.24 inches (L x W x H). This bag can be yours for just under $19.
Check out what the company has to say about this product, "This MOSISO protective laptop shoulder briefcase bag is made from premium environment-friendly polyester material, which is very durable, not easily broken. The exclusive trendy design also gives your device the most functional yet fashionable look and enables you to carry your laptop in a uniquely sleek style. It can be perfectly used for study business leisure and travel, stylish and decent in appearance, you will be delighted with our bag".
Pros
Comes with a main compartment for holding the laptop
Front zipper compartments for holding other items like your cellphone
Many spaces for organizing accessories
Cons
Some users don't care for the strap clips
---
8. MATEIN Travel Laptop Backpack
We really like this bag because it is multifunctional. As you can see, it looks and acts as a backpack, however, there is an explicit compartment for your laptop. This bag comes in 7 different colors and rolls in at just under $30.  The bag has many storage units for accessories, books, and electronic devices. You'll find the bag to be very comfortable when worn on the back.
Here is a message from the company, "Matein is dedicated to product quality. We are devoted to manufacturing high-quality products that meet with the requirements of international top standards, ensuring your complete product safety and excellent service we strive to give our customers the best quality".
Pros
Designed to be pick-pocket safe due to anti-theft features
Multi-panel Airflow system provides relief when carrying heavy loads. Many padding on the back, shoulder straps and grab handle makes it comfortable to carry, barely feel the weight
The backpack comes with a charge port
Cons
Some complaints of the straps coming out of the buckles
A few people complained that there wasn't enough padding
---
7. Mancro Laptop/Backpack
Here we have another laptop bag that doubles as a backpack. It comes in a variety of colors and costs just under $21. It is perfect for work and school. Here are the dimensions of this back and the devices that it is compatible with: 20 x 12.2 x 5.7 inch with dedicated Laptop compartment holds Laptops less than 17 Inch as well as 15.6 inches, 15 Inch,14 Inch, and 13 Inch Macbook/Laptop such as for Dell HP, Asus, Lenovo, Acer, Samsung, Sony, MacBook, Notebook. This bag contains multi-compartments, has a USB port design and is waterproof.
Check out what the manufacturer has to say about the USB port design, "With built-in USB charger outside and built-in charging cable inside, this USB backpack offers you a more convenient way to charge your phone while walking. Please noted that this backpack doesn't power itself, USB charging port only offers easy access to charge".
Pros
Bag is theft-proof
Durable and eco-friendly design
Designed with s-curved padded shoulder straps
Cons
Some reports of the bag missing pockets…this could be a design flaw on a particular batch
---
6. Ytonet 17 inch Laptop Bag
For just under $33, this is a really nice laptop bag that doubles as a briefcase. It is equipped with multi-functional compartments, strengthened shockproof foam padding, and plenty of space. It comes in 4 different colors, too.
Here is a message from the company, "Soft lined laptop sleeve holds a laptop up to 15.6 inches, suitable for most MacBooks / Macbook air / Acer Chromebook / Acer Aspire / Acer Flagship / HP pavilion / Dell inspiron 15 / Dell inspiron 13 / Notebooks / Tablet / Ultrabooks / PC Computer devices / ASUS / Apple / Windows / Ipod / Netbook".
Pros
Expandable capacity
Frees up your hands
Designed with an adjustable shoulder strap
Cons
Some complaints of the bag wearing out too quickly
---
5. YOREPEK Travel Laptop Backpack Bag
This is another wonderful laptop bag/backpack mix. This bag comes in a variety of colors and can be yours for just under $36. It has many pockets to keep your things organized and neat. There is a lot of room and space, as well as a separate compartment for your laptop.
Here is what the manufacturer has to say, "Your Best Choice for the SCHOOL GRADUATION GIFTS and BACK TO SCHOOL supplies. It can be served as a high school backpack for men women, college bookbags backpack or high school student backpack bag. Spacious Compartment could make your school supplies tidy and organized ( like a laptop, Book, folder, Pencil case, pocketbook, keyboard, mouse and phone charger cable etc )".
Pros
Equipped with a headphone jack
Designed with a USB port
Shockproof padded laptop compartment
Cons
Some reports of the shoulder straps tearing and not holding up very well
---
4. Taygeer Carry On Handle Case
This is a really nice laptop-messenger bag. it is seriously sturdy and durable. It comes in 3 different colors and rolls in at just under $25. External Dimension: 15.6″ x 4.9″ x 11.7″ (LxWxH) features a dedicated well-padded Laptop compartment with velcro closure, perfect for carrying 15.6inch laptops Apple MacBook, Chromebook, HP Spectre, Lenovo Thinkpad, Fujitsu, Asus, Samsung, Sony, Toshiba,HP ProBook 4540s,ASUS N580VD-DB74T VivoBook Pro,ASUS FX503VM Gaming, Acer Aspire e15, Acer Aspire v15, Acer Aspire one.
The bag contains many different pockets and compartments such as a front, main, and back pocket. There is also a pocket organizer and a separate pocket for your laptop.
Pros
Handles are comfortable and convenient for carrying
Shoulder straps are padded and removable
The durable metal hook strap is made from all alloy materials
Cons
Some complaints of the bag having a foul smell
---
3. KROSER Laptop Bag 15.6 Inch Briefcase
This is a very nice laptop bag as it is a fashionable and trendy ins tyle. It is available in 2 different colors and rolls in at just under $20. The material is made from waterproof canvas poly. The main compartment includes a 15.6″ padded laptop compartment and tablet pocket. Use the two front zippered pockets for pens, keys, etc. This bag allows you to have the ultimate in organization.
You'll appreciate the detachable padded shoulder strap with adjustable reinforced straps.
Pros
Made with durable hardware
Comes with a luggage belt
Provides Ultimate protection for your device against scratches and accidental bumps
Cons
Some reports of the bag being overly small
---
this fashionable bag comes in 2 different colors and rolls in at just under $110. It may be pricey, but it has gotten great reviews on Amazon. It comes with a cotton-lined computer compartment that fits a variety of laptop and Macbook sizes.
Check out what the manufacturer has to say, "The long-awaited, dressed up version of our classic canvas messenger is finally here. Causal, relaxed, confident and professional are only a few of the words we'd use to describe our Navali Leather Mainstay. With a premium leather finish and durable canvas interior, this bag is loaded with pockets for keys, cell phones, notebooks, books, movies, paintings, pencils, pens, and laptops, or anything else you want to throw in it. Whether you're pulling the lines on a sailboat, bicycling through the city streets, or riding the bus to your second job, you're going to want to look good doing it, and the Navali Leather Mainstay can guarantee it".
Pros
Made with high-quality brass zippers
Has magnetic snap buckle closures
Made from genuine crazy horse leather (saddle leather)
Cons
---
1. AmazonBasics 15.6-Inch Laptop and Tablet Bag
This is one of the best deals we have found on Amazon. Ironically, it comes from the AmazonBasics brand. The bag only costs around $15. You can get this bag in a variety of different sizes, styles, and configurations. You'll love the slim, compact case that is perfect for carrying laptops up to 15.6-inches without any unnecessary bulk.
Check out what Amazon has to say about this bag, "
Convenient, comfortable, and easy to carry, the AmazonBasics Laptop & Tablet Bag is a slim shoulder bag designed to protect and transport to your electronics.
The padded interior features a separate interior space to hold your laptop without unnecessary bulk. And the mufti-compartment design holds cables, pens, phones and the other items you need".
Pros
Comes with built-in accessory storage compartments
Includes padded shoulder strap
Slim and compact
Cons
Reports of shoulder strap sometimes unclipping itself
Why We Chose AmazonBasics 15.6-Inch Laptop and Tablet Bag As Our Top Choice…
Wow! That is a lot of information about laptop bags. We hope you were able to find the type of bag that you need on our list. We are really excited to have found bags with multi-functionality. Each of these selections is backed by rave reviews and high star ratings on Amazon.
Even though we love all of these laptop bags, we had to chose just one for our top spot. So, we decided to go with the AmazonBasics 15.6-Inch Laptop and Tablet Bag.  This bag is affordable, durable, and comes with many different compartments for carrying accessories.
Even though the bag had a few reports of the shoulder strap unclipping, we want you to be aware that this was a rare occurrence and Amazon made it right with the customer.
Which one of these laptop bags will you be purchasing, today? We hope you go with our top choice but any bag from this list will undoubtedly be excellent.
Be sure to click on the yellow Amazon button for a safe and secure checkout experience.