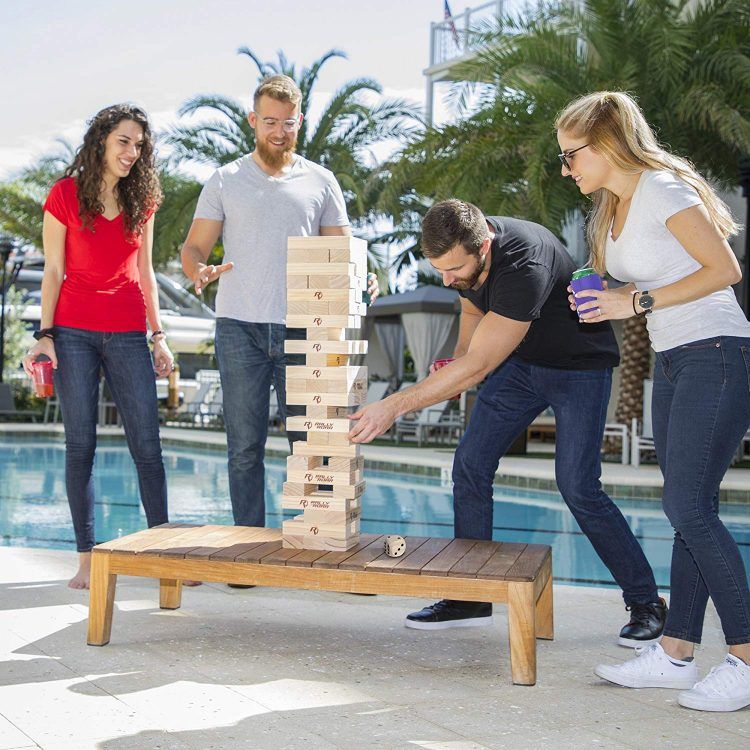 Nothing brings a family closer together than the Best Family Party Game! Having some good old fashioned fun with a competitive twist is something families and friends have been doing for decades. It's time to put the smartphones and tablets down and participate in an activity that doesn't involve electronics.
There are scores of family-friendly games on the market and new ones come out each year. Choosing one has become even easier than ever due to this convenient list we put together. It's loaded with the top 10 best family party games that we could find. Each game has gotten rave reviews and high star ratings on Amazon.
Gather up your family and friends for an evening of fun and laughter when you bust out the board games! These board games aren't the boring run-of-the-mill games that you played as a kid. They are challenging, fast-paced, and hysterical!
We've included a variety of themes, styles, and price ranges on this list so that everyone has a chance to find a little something that they'll enjoy playing. Trust us when we say that this top 10 part game list is a real hoot!
So, are you ready to find the best family-friendly party game for your next get-together? Great! let's get to the list.

10. Unstable Unicorns Base Game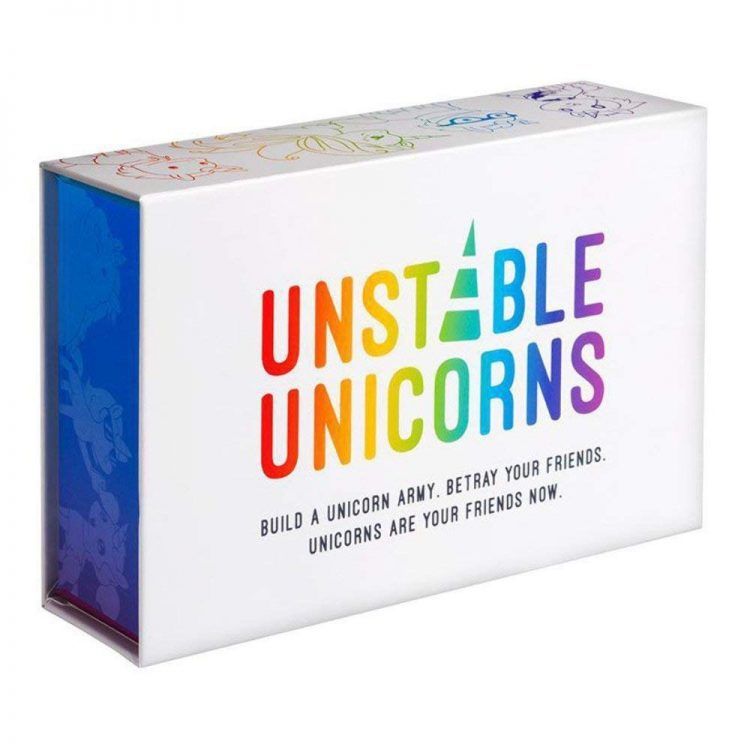 Do you like strategic card games? Do you like unicorns and unicorn armies? If so, this is the party game for you. It may wreak havoc on your friendships, but that's OK, unicorns are your friends, now. Don't worry, it's all in good fun!
This game is one of Kickstarter's top 50 most backed projects of all time. It comes highly rated and reviewed.
According to the manufacturer, "Unstable Unicorns is a strategic card game about everyone's two favorite things: Destruction & Unicorns".
Pros
Fun and fast-paced
Brightly colored and whimsical game pieces
Affordable
Cons
Some complaints about the instructions being a bit unclear
---
9. What Are The Odds? Family Edition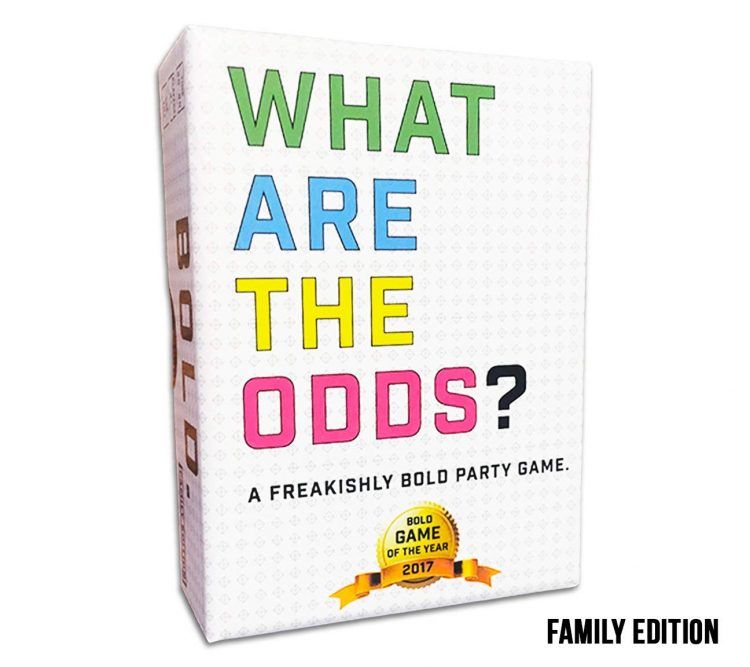 This game was voted #1 Word of Mouth game of the year. It was once played in the streets across the world, but now it is a card game that can be played as a family from the comforts of your own home. The game comes in a sturdy box with cards.
Here is a word from the company, "With "WHAT ARE THE ODDS?" trademarked, we hope to trademark your new experience with fun, laughter, boldness, and happiness. You will cry, you will laugh and you may be a little ashamed".
The goal is to survive the odds and dares, no matter what they may be. Get ready for a ton of laughter and good times.
Pros
Guaranteed satisfaction and FREE returns
Great for parties
Perfect game for adults, kids, teens, and seniors
Cons
The game itself is very small
---
8. Relative Insanity Party Game
This is a game that has been created by Jeff Foxworthy and has been featured on different TV shows like Jimmy Fallon and Rachael Ray. It's a hilarious game about crazy family members being in even crazier situations. You and your family will have hours of laughter.
The game is for 4 to 12 players, so a lot of people can enjoy it at one time.
Here is what the manufacturer has to say, "This laugh-out-loud party game uses bits of comedian Jeff Foxworthy's material that mix and match to create wacky situations that families and friends will love"!
Pros
Created by celebrity comedian. Jeff Foxworthy
Filled with funny phrases
Easy to play
Cons
Currently, no expansion pack or extra cards are available
---
7. Spontuneous – The Song Game
This game is an Amazon Best Seller! If you and your family are fans of music, this is the game for you. It's a simple part game to play for all ages and musical tastes. A word is given and it's a race to blurt out any song that contains a said word. Easy and fun1
The game is for ages 8 and up and can be played by 4 to 10 players who have formed teams.
According to the manufacturer, "Award-winning – Music Teacher Approved, Mom's Choice Gold Award, Dr. Toy's Best Vacation Product, Parent Tested Parent Approved Seal of Approval, The National Parenting Center Seal of Approval, Mom's Best Hot Product Award, Creative Child Magazine Game of the Year, Play Advances Language Award. Includes Manufacturers Warranty".
Pros
Competitive
Fast-paced
Affordable
Cons
Younger players may have a hard time knowing a song to blurt out
---
6. Rollick! The Hysterical Team Charades Party Board Game
Do you like clues and collaboration? if so, this is the game for you. It's an award-winning party game that's fast-paced and super fun. It's a game of charades and competition. People of all ages will enjoy playing this game.
Here' s a message from the company, "ROLLICK!, is a hit party game that's a fast and furious team charades competition. It's a hysterical, fun, fast-paced game that's an absolute riot at parties, family gatherings, work events, holiday celebrations, with friends, and is even loved by teenagers! It's perfect for family fun night, parties with friends or as a team building activity. With ROLLICK!, the entire team collaborates together to act out clues for one or more person(s) to guess. Teams have 60 seconds to attempt to guess as many clues or phrases as possible. The team with the most points at the end of the game wins! With over 750 clues, including words for younger children, suggestions for large and small groups, and other fun variations, no game is ever the same! For hours of hysterical fun – the choice is ROLLICK! What People are Saying: "Still can't stop laughing." "No doubt this will become a classic" "Family LOVED this game!" "My teenagers ask to play with us." "It's CHARADES on steroids!"
Pros
Hilarious family game
Helps to bring shy folks out of their shells
Dozens of different themes to guess
Cons
Some people feel this game is nothing more than charades
---
5. I Should Have Known That! Trivia Game
A really fun party game filled with over 400 questions that people should "already know". Is great for kids ages 14 and up and can be played by 2 or more players.
Here is a product description from the manufacturer, "Is starboard on the left or right side of a boat? How do you say "Japan" in Japanese? What is the character limit for Tweets on Twitter? How long did Sleeping Beauty actually sleep? …I should have known that!TM is an addictively entertaining trivia game with over 400 questions about things that you should know. In contrast to traditional trivia formats, you don't receive points for answering questions correctly. Instead, points are subtracted for every incorrect answer! One thing is for sure: it will only be a matter of time before you hear yourself say… Doh!… I should have known that"!
Pros
An infinite amount of people can play at once
Great game for challenging your mind
Lots of good questions
Cons
Some people claim the game is nothing more than trivia questions without any real point
---
4. Codenames
Codename is a great game for 2 to 8 players. It helps you to work as a team to see who can make contact with all of their agents, first. You really have to be on your toes with this game!
According to the company, "Codenames is a social word game with a simple premise and challenging gameplay. Two rival spymasters know the secret identities of 25 agents. Their teammates know the agents only by their codenames. The teams compete to see who can make contact with all of their agents first. Spymasters give one-word clues that can point to multiple words on the table. Their teammates try to guess words of their color while avoiding those that belong to the opposing team. And everyone wants to avoid the assassin. The game works very well with 4 players if you prefer to guess without help. Or you can add more players if you prefer lively discussion. There is also a cooperative variant where a single team tries to achieve the highest score they can by playing against the game itself".
Pros
Even if you lose, the game is super fun
A game of wit
Cons
Not a light-hearted game that young children will enjoy
---
3. Taboo Party Board Game With Buzzer
Taboo is a classic game that has been enjoyed by people for decades. This particular version has been revamped and is great for kids as young as 13, to play. It's a fast-paced, fun game for both large and small groups.
As described by the manufacturer, "This exclusive edition of the taboo game comes with 450 game cards — including food and drink category cards — for even more unspeakable fun! The aim of this fast-paced, laugh out loud game is for players to get their team to correctly guess the guess word listed on the game card. If the describer says a forbidden word listed on the card while giving the clues, they'll get interrupted with the electronic buzzer and lose a turn. Players keep the cards that were guessed correctly, and the team with the most cards wins the game. It's a great party game for adults and kids 13 and up. Hasbro Gaming and all related terms are trademarks of Hasbro. Taboo is a trademark of Hersch and company".
Pros
Fast paced
Comes with hundreds of game cards
Includes an electronic buzzer
Cons
At least 4 people are needed to play the game
---
2. Ridley's That's So 90s Team Trivia Set Game
This game contains 200 quiz cards that feature 1000 questions to test your knowledge of the 90s. Do you think you have what it takes to answer them? The game is split into 10 different categories from the 90s like sports, music, movies, and much more.
Here is what the creator of the game had to say, "Ridley's Games invents exciting, original, quality games and toys to spark imaginations banish boredom and open up a world of immense fun. We've resurrected old school classics and created our own unique collection of new games, puzzles, trivia and novelties to entertain both the young and the young at heart. Because having fun never­ gets old! From Nirvana and Seinfeld to The Spice Girls and Super Nintendo, this 200-card That's So 90s Quiz pack covers it all. With 1000 questions to test your knowledge, it is the ultimate challenge for every fan of the 1990s".
Pros
Tests your memory
The concept is easy to grasp
Affordable
Cons
Not a game for younger people who missed the 1990s time era or who were very small children during that period
---
1. What Do You Meme? Party Game
This game is intended for family and friend fun but just not for members who are under the age of 18. The game does contain some adult content. This game allows you to compete with other players to create the funniest memes on the planet.
Here's a word from the manufacturer, "Think you've got what it takes to out-meme your friends IRL? Compete to create the funniest meme by pairing Caption Cards with the Photo Card in play. A rotating judge picks the best combination each round. Play until you're hungry, at which point stop playing and order a pizza.
This game comes highly rated and reviewed on Amazon.
Pros
Made for 3 to 20 players
30-90 minutes of playing time
Comes 435 playing cards
Cons
Why We Chose What Do You Meme? Party Game As Our Top Choice…
We hope you enjoyed all of the different party games that we have listed. Each one is super fun and highly recommended by the Amazon community. We would love to play each and every one of these games for hours of laughter and family bonding time.
Even though we appreciate all of these games, we had to choose just one for our top spot. We decided to go with the What Do You Meme? Party Game. This game is hilarious! Now, granted, it isn't for kids, but it's still considered a family game because you can play it with 20 of your funniest relatives and friends. Plus, you get to come up with some pretty hilarious memes. What can be better than that?
Which one of these party games will you be purchasing, today? We hope you'll go with our top choice. However, any game you pick from this list is sure to bring you a lot of fun.
Be sure to click on the yellow Amazon button for a safe, secure, and seamless checkout experience.