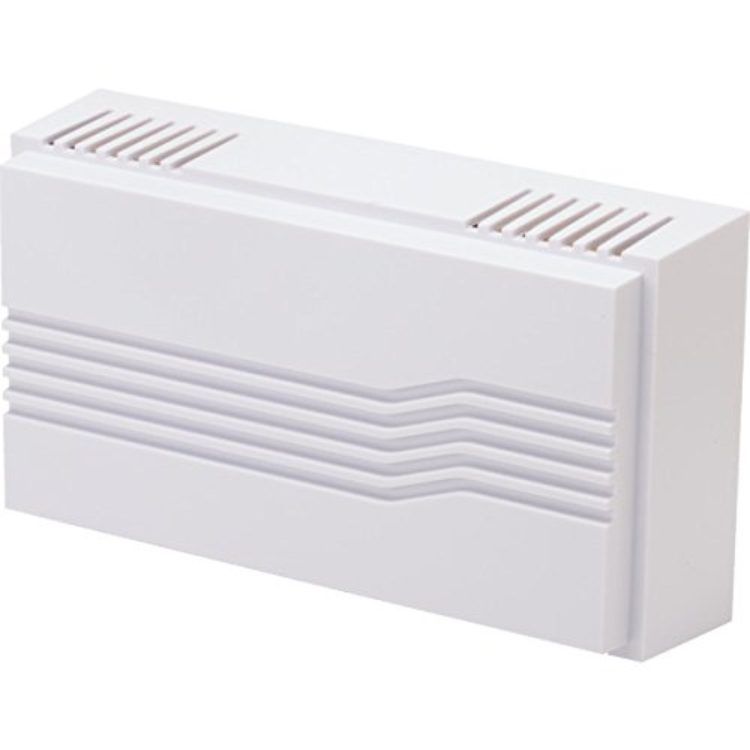 Having the best electronic doorbell is one of the best gifts you can give yourself…unless you have a dog or a newborn baby. Haha! Seriously, though, doorbells are a wonderful way to stay alert as to whom is on your doorstep. You just never know these days!
Reasons To Own a Smart Doorbell
Before we share the top 10 best electronic doorbells available on the market, let's discuss the benefits of owning one. We've provided an extensive range of doorbells to help you discover the perfect one for you.
Security
The top reason for owning a smart doorbell is added level of security. Ordinarily, if someone rings your doorbell, you have no way of knowing who it is until you answer the door. This can be intimidating if you live by yourself or you're not expecting anyone.
A smart doorbell gives you a range of options to improve your security. For example, some feature a speaker and microphone so you can communicate with the visitor. Some models come equipped with a camera so you can verify their appearance. By allowing you to interact with the person, you'll get peace of mind whenever someone rings your doorbell. 
Check Your Home While You're Away
If you purchase an electronic doorbell with a camera, it'll likely connect to your app so you can view outside at any time. This is a great way of monitoring your home while you're away to check there's nothing suspicious in the area.
This is also a great way to check that your packages have arrived safely if you're not home, and you can even communicate with the delivery person on where's best to keep your package while you're out. Some top brands can even take shots of outside your home if something seems out of the ordinary.
Easy Installation
If you're concerned that these high-end doorbells require a mass amount of installation, you're wrong. Many only take minutes to install in your home, which is great to know if you have little electronic experience. Plus, there'll be a time you need to replace the batteries, so it's great to know how to operate the device.
Also, you don't need to worry abot hiring a professional to install the service. However, if you purchase a top electronic doorbell, it'll likely come with a synchronated app so make sure you're up to speed with technology.
How To Choose The Best Electronic Doorbell For You
Electronic doorbells come in many different styles with loads of unique features. Discovering the best one for you, depends on your sole purpose of owning one and budget. Here are some essential considerations to remember throughout your search.
WiFi
Some of them are even powered by WiFi and can be controlled by your smartphone! How neat is that? The types of doorbells you can get are truly endless. 
This is a great way of accessing the camera and speaker while you're not at home. Think about all the times you've missed the postman because you've been out. Instead, you can answer their call without being home.
Storage
If you wish to access your doorbell while you're on holiday, this will double-up as a security camera. However, your device will need an internal storage to keep all the files until you next access them. 
As a result, consider how often you'll leave your home unoccupied and how often you'll check the video footage. Some doorbells save the data to the app, so if storage is a concern, make sure you purchase one that comes with technological features.
Vision
Finally, another top feature is the vision. Do you want the camera to record in high-definition or are you content with a brief image? If not, opt for a doorbell with a 1080 HD vision.
You should also consider the viewing range. If you have a large plot of land, having a camera that can detect movement and adjusts to the object is a great safety feature.
The Top 10 Best Electronic Doorbells To Buy
We've scoured all of Amazon for the most highly-reviewed and top-rated doorbells that we know you can trust. On our list, you'll see brands like TechNet and Ring. We want you to feel nothing but confidence in our selections. Each of these doorbells hosts different features. Some are extremely advanced while others are a bit on the basic side. Choose the one that best fits your needs.
Are you ready to find the best doorbell on all of Amazon? Great! Let's get to the list.
10. Wireless Doorbell, TeckNet Waterproof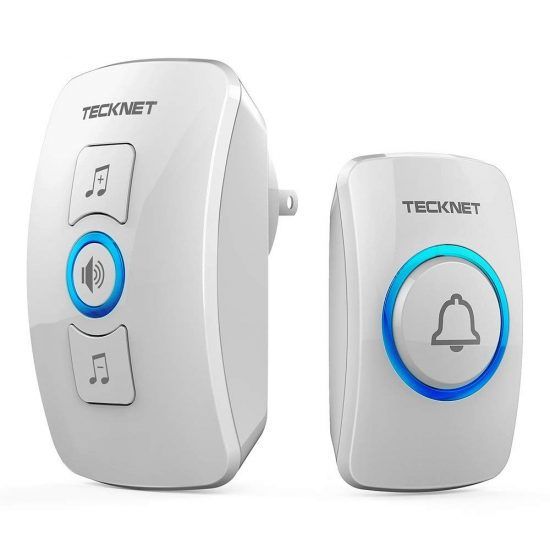 This amazing wireless doorbell has an operating range of 820 feet. If the area is open, it can reach up to 1000 ft. The remote transmitter button is rated IP33 weatherproof and totally acceptable for outdoor use. This doorbell rolls in for just under $12.
You'll love the easy plug receiver that simply plugs into an electrical outlet. No batteries are required for the main receiver! When someone is at your door, the blue LED lights flash to alert you.
The doorbell comes with 32 different ringtones. There are 4 levels of adjustable volume from 25db to 85db. You'll have access to a memory function so that the device retains your settings.
Pros
The push button can easily be screwed into any doorframe or attached using double-sided adhesive tape
Comes with 32 customizable chimes
Can be used in the home, office, and even hospitals
Cons
Some complaints about some of the 32 doorbell sound being "weird"
---
9. Newhouse Hardware Two Note Electric Door Bell Chime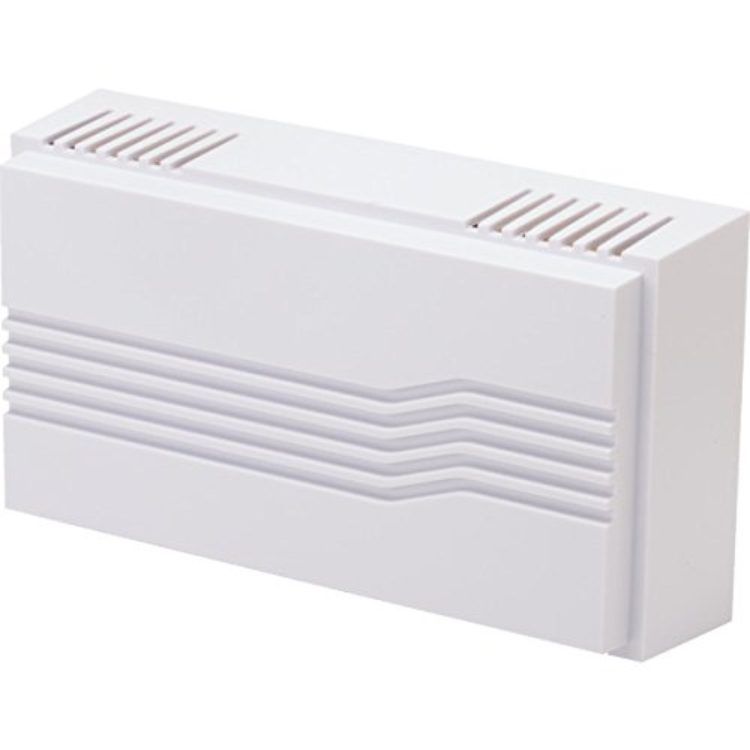 This electronic doorbell device is a classic model with all of the basic features that you know and love. For example, it is equipped with a classic "ding dong" doorbell sound. You can have this device for just under $13.50.
You'll find that this doorbell is very easy to install and comes with all necessary parts and hardware.
Use with a 16-volt/10 VA or 16-volt/15 VA transformer (not included). Search "B019BW9VZ2" for a compatible transformer.
Pros
Very easy to use
Loud doorbell chimes to alert you
Comes with an informative user's manual
Cons
This item does not include the doorbell button or the transformer. Search "B019BWA0ES" for a door chime, transformer and door button set
---
8. SadoTech Model CXR Wireless Doorbell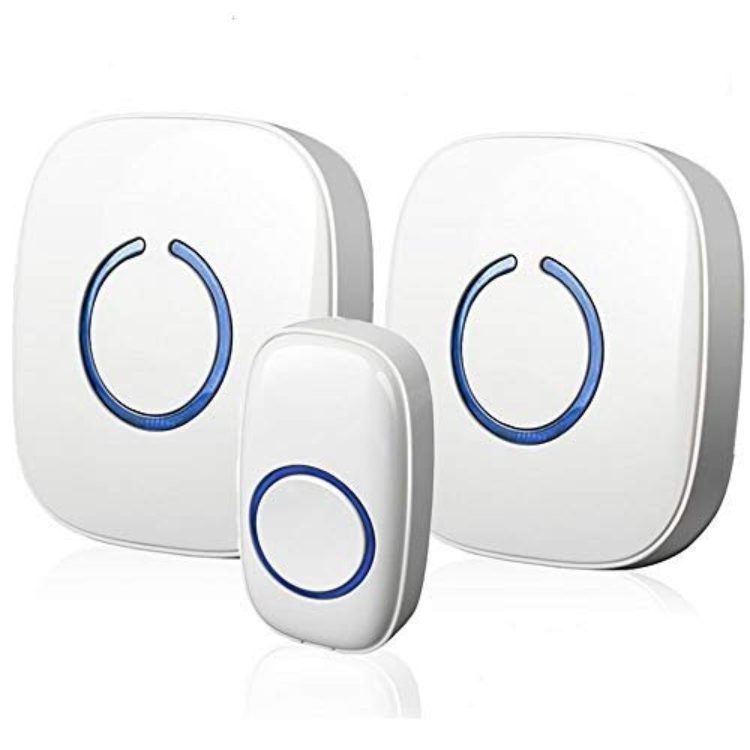 You may have seen this little gem advertised on TV. It has been featured on Business Insider, FOX, ABC, NBC,  and CBS NEWS. These doorbells look great and are loud and reliable. You can get this one for just under $25.
Did you know that the device is designed to be triggered when the transmitter button is pushed? Each chime can be configured to ring with different tones. It's great how you can customize this doorbell.
In fact, there are over 50 different ringtones to choose from! The operating range of this doorbell is well over 500 feet. There are 4 levels of adjustable volume that range from 25db to 110db.
Pros
Comes with a FREE "10 Ways To Use Sadotech Doorbell" Guide
You have the ability to listen to the doorbell chimes before you buy
Comes with a wireless digital remote
Cons
Some reports of the receivers "dying" before a year's worth of use
---
7. Ring Video Doorbell Pro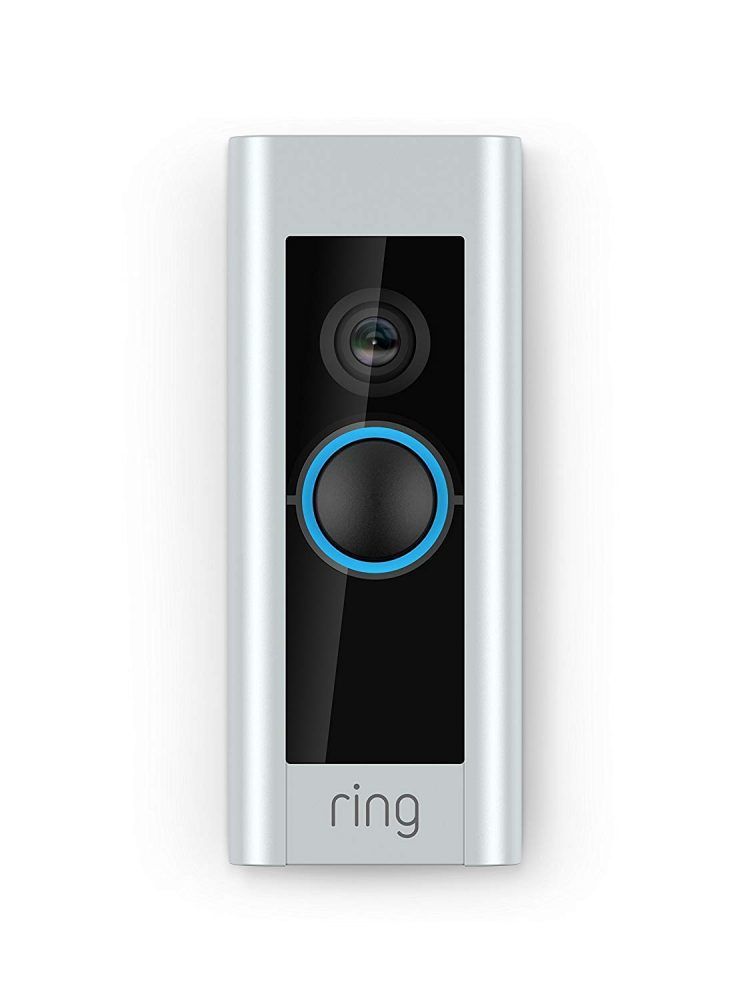 This particular doorbell is seriously the cream of the crop. It's pretty expensive at just under $250. However, the reviewers have spoken and they love it!
This doorbell works with Alexa to illuminate and send announcements to your Echo devices. It is so much more than a doorbell. You can hear and speak to visitors before you even allow them to enter your home or business. You can see who is there from your PC or tablet. As soon as motion is detected, an alert will be sent. This holds true when the doorbell button is pushed, too.
Pros
Compatible with ios, android, mac, and Windows 10 devices
Let's you check on your property at any time with Live View
Includes Lifetime Theft Protection
Cons
---
6. Magicfly Expandable Wireless Doorbell Kit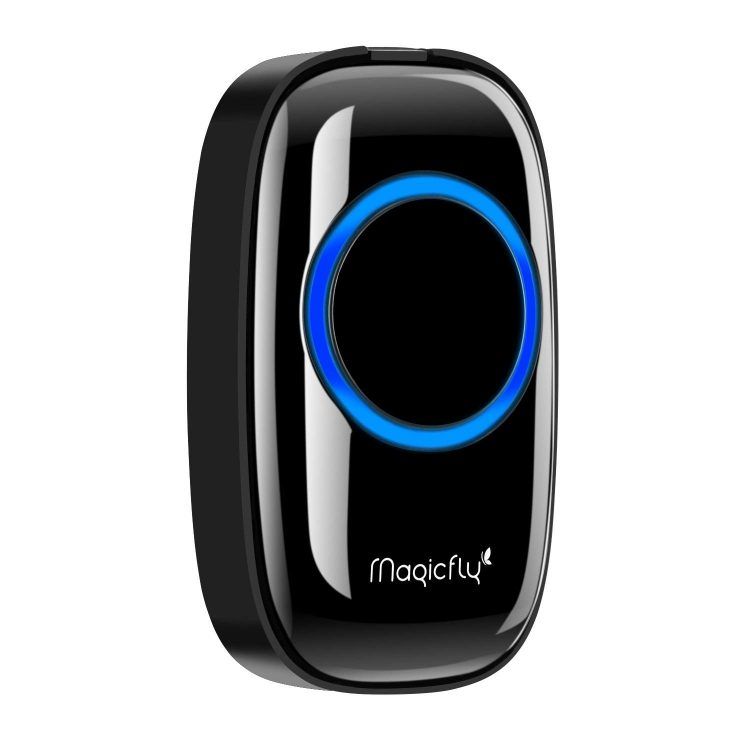 Here, we have an excellent doorbell system that will only set you back about $90. Yes, it's a bit pricey, but so well worth it! This charming doorbell system even has 53 elegant melodies to choose from!
The stable wireless transmitting range is over 200 meters and 300 meters in an open area. The device is made from high-quality materials that are durable and safe in extreme temperatures, both hot and cold.
You'll love how easy this device is to install. It comes with convenient double-sided stickers. This unit lasts a lifetime.
Pros
Very easy to install on your own
Equipped with super power-saving mode
The device passes CE, FCC, RoHS approval
Cons
Some complaints about the instructions being poorly written
5. Wireless Doorbell, AVANTEK D-3F Waterproof Chime Kit
---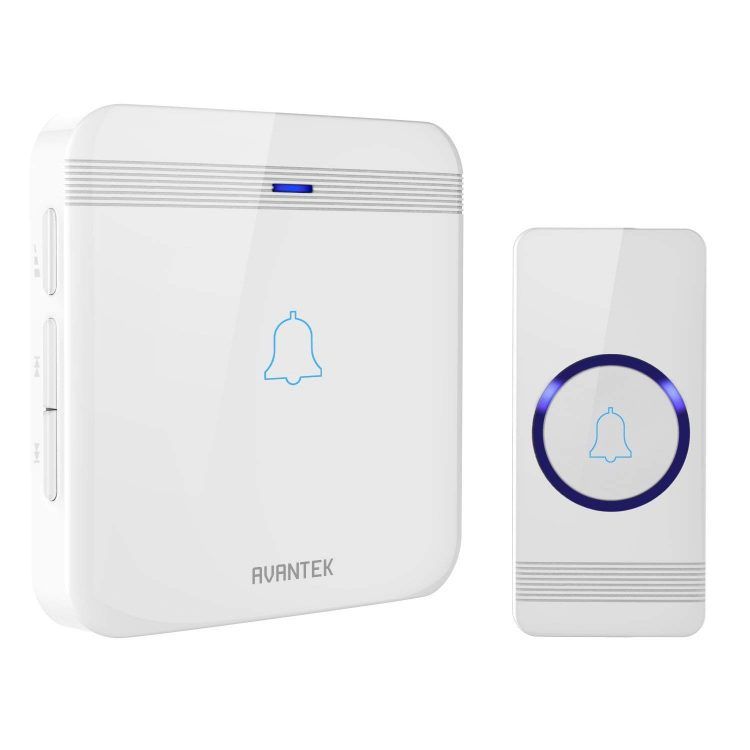 This wireless doorbell by the Avantex company is a real steal! This item rolls in at just under $18. It is available in a single and double pack. You can also choose between black and white.
You'll love the 52 melodious chimes that you can choose from. The stereo is equipped with a 40mm speaker that delivers rich and vibrant sound. The maximum volume is set at 115db.
The high-performance transmitter uses super low power consumption. The lithium battery boasts a 3-year maximum lifespan. This saves you money!
Check out what the manufacturer has to say about the products wireless range, "1 plug-in receiver included; will not interfere with other equipment in your home or those of your neighbors; ensures that you will never miss any visitors, even if you are several rooms away".
Pros
Withstands harsh weather conditions
Comes with advanced-technology memory functions
Very easy to set up
Cons
Some complaints about the tones sounding "hokey"
---
4. Adoric Life Wireless Doorbell Waterproof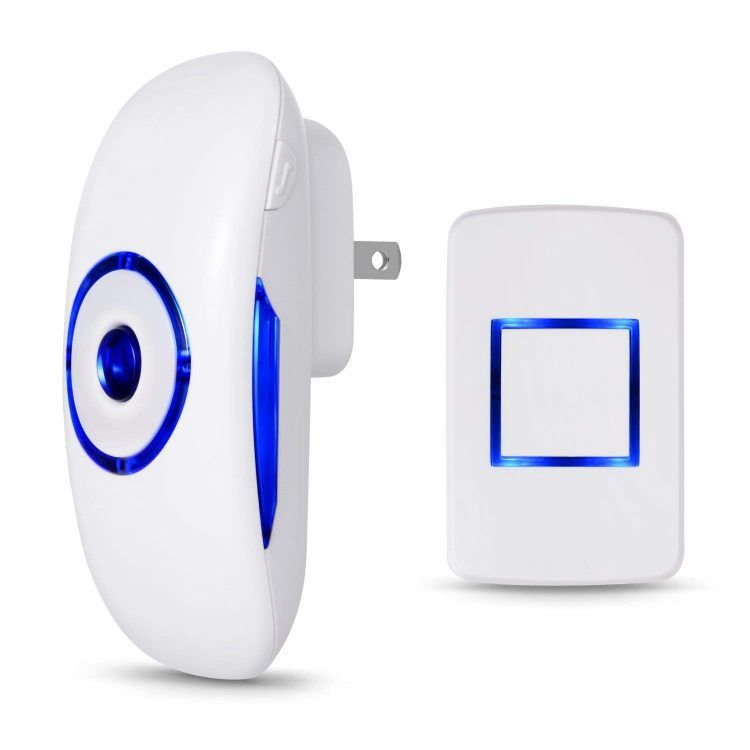 For just under $12, you can have a wonderful wireless doorbell that has a range of up to 1000 ft in open areas. This device comes with 36 different ringtones with 4 levels of adjustable volume from 20db to 80db. You'll also see flashing light and hear audio alerts for people who are hearing impaired.
Check out what the company has to say about their warranty, "We stand by our products 100% with a 12-month warranty. A happy purchasing experience is our
priority and we will happily send a product replacement if there are any issues".
Pros
Very easy to install
Weatherproof and able to be used outside
Comes with a 1-year warranty
Cons
If the receiver gets severely wet it tends to malfunction
---
3. 1byone Easy Chime Wireless Doorbell
This affordable doorbell comes in a  few different varieties. This listing rolls in at just under $15. You'll appreciate the long-range distance of up to 500ft. The unit is FCC, RoHS certified. You'll love the 36 different ringtones that you can choose from with 6 levels of adjustable volume.
There are 3 notification modes on this device. All you need to do is press the sound-and-flash button to set up your favorite notification mode. LED flash mode is great for when you do not want to be disturbed.
Pros
1 receiver can pair up 5 push buttons
Very easy installation
Comes with adhesive tape that easily adheres to the doorframe
Cons
Some users don't like the positioning of the electrical plug
---
2. Physen Model CW Waterproof Wireless Doorbell kit
This model comes with 2 remote push buttons and 3 plug-in receivers so you can easily program the unit into your house. Each door can be programmed with a different ringtone so you know which door someone is at. This device is waterproof and can be installed outdoors and withstand the elements.
Check out what the manufacturer has to say about the volume features, "4 level volume adjustable with 52 charming melodies available, you will never be bored with terrible doorbell ringing again, both perfect to look after the young and the old. This can be specially used as professional pager for the old. When an old man meets with an emergency, he just needs to slightly press the transmitter button, his family can receive his signal for help".
Pros
FCC and RoHS certified
Flexible design
Has a range between 200-700 feet
Cons
Some say the unit has a design flaw with the top of the product having a gap in it
---
1. Ring Wi-Fi Enabled Video Doorbell
This is a great little wireless doorbell. it's on the Amazon Top Choice list. For just under $100, it can be yours. You'll love how this unit works seamlessly with Alexa. It will send messages to your Echo devices.
You can hear, see, and speak to whoever is at your door from your phone, tablet, or home computer. The unit will send you immediate alerts as soon as motion is detected or when people press the doorbell button. The unit works with or without existing doorbell wires.
Pros
Monitors your home in HD video with infrared night vision
Allows you to check-in on your property using the Live View on-demand feature
Includes Lifetime Theft Protection
Cons
Why We Chose Ring Wi-Fi Enabled Video Doorbell As Our Top Choice…
Wow! That's quite a bit of information about doorbells. Hopefully, you have been able to make an informed decision on the one you like best. Each of the doorbells on our list has gotten high star ratings and rave reviews on Amazon.
Even though we like all of the doorbells we have selected, we had to choose one for our #1 spot. So, we decided to go with the Ring Wi-Fi Enabled Video Doorbell. This unit may be on the pricey side but it is worth every penny. It has gotten over 28k reviews on Amazon and holds a 4-star rating. That's pretty impressive!
There really isn't much this doorbell can't do. You can see who is at your door from a number of electronic devices like your smartphone and tablet. Plus, this doorbell allows you to check on your property from anywhere.
Which one of these electronic doorbells will you be purchasing, today? We hope you go with our top choice, but any unit you choose from this list is sure to be great.
Be sure to click on the yellow Amazon button for a safe and secure checkout experience.