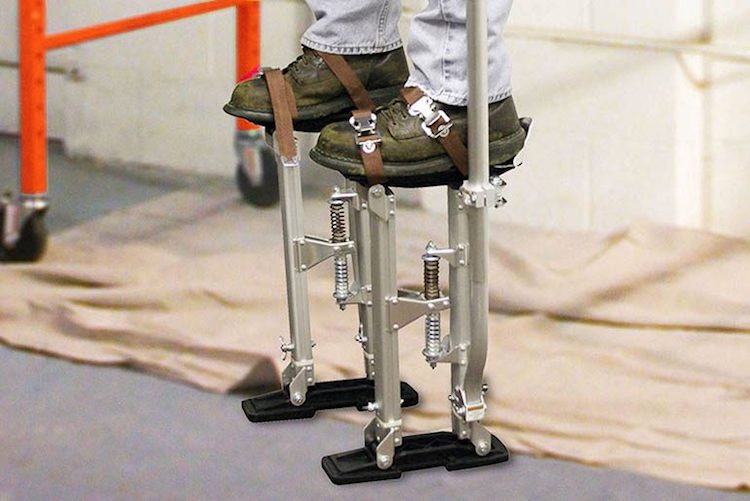 For people who are involved in any type of interior construction whether its drywall, electrical, painting, drop ceiling installation, wallpaper laying, or those involved in cabinetry and built-ins that have need to get to higher levels while working, using stilts can be the perfect solution.
Stilts can help professionals and contractors who work at home improvement and Do-It-Yourselfers to be able to maneuver to the higher levels of any room without having to climb up and down on ladders every few minutes while doing their work.
While stilts do take a bit of time to get used to, most people can get accustomed to them within a few hours of practice. The use of well-built stilts to accomplish higher room level work can reduce work times by a significant amount and that is the number one reason they are purchased.
Professionals, Contractors and Do-It-Yourselfers can find themselves reducing the time of a job by up to one third of the normal time by using stilts for higher room level work.
While professionals are apt to be more accustomed to using stilts, most people of average height and weight can easily learn how to maneuver in stilts for completing any Do-It-Yourself project around the home, office or business that requires a person to typically use a ladder to complete.
Any project that requires work at higher ceiling heights whether it is to be completed in: a home, business, office or garage with a flat hard surface based floor can readily use stilts to help them complete their project.
Typical stilts can raise a person's height from 12 inches to up to 3 and a half feet above floor level. For drywall workers, painters, electricians, wall paper layers, and cabinet and built in installers, these are the perfect height extension levels needed to complete most tasks in rooms with ceilings that range from 7 to 9 and a half feet in height.
Once stilt walking is learned and mastered it is very much like learning to balance on any other type of alternative footwear like rollerblades and ice skates. However, unlike rollerblades and ice skates, stilts are built to be like shoes and are sturdier and do not slide.
While most Drywall stilts are used for construction and home improvement work, there certainly are other uses for stilts. In fact, many professional clowns use stilts for their work and they perform in them on a regular basis.
Here is a great list of the top 10 best drywall stilts on the market in 2018, These stilts are perfect for people who are looking to get high quality stilts for their professional or Do-It-Yourself work.

1. Pentagon Tools 1116 Black Drywall Stilt
These are adjustable black drywall stilts perfect for indoor construction use. They have adjustable heel plates with foot straps and feature self-locking metal buckles. They are built with high grade aluminum for strength and they are also light-weight so it doesn't wear down on the user.
The Pentagon Tools 1116 Professional Black Drywall Stilts, have an adjustable height from 18" to 30" with a load capacity of 228 lbs. They feature premium grade rubber soles to prevent slipping. They have a dual spring action which allows greater flexibility to users and helps to prevent legs from sliding.
Pros
Easy To Use-Good For Occasional Usage
Great Price
Good Adjustable Heights
Cons
Not Good For Long Term Usage
Not Top-Grade Materials
---
2. Pentagon Tool Professional 18″-30″ Silver Drywall Stilts
Pentagon Tool Professional 18″-30″ Silver Drywall Stilts, offer the highest quality in design and materials. They are made using premium grade Alloy. They have an exclusive wing bolt design to offer flexibility and versatility with easy height adjustments.
They are designed to be lightweight weighing just over 6 lbs. a piece and they carry a 228-lb. capacity. They are readily adjustable from 18" to 30" in height and offer a dual spring action that allows for easy maneuverability and helps prevent the legs from sliding. The new and improved nylon leg adjustment sleeves make for smoother walking and less wobble.
They have premium grade rubber soles to protect against slipping. The adjustable leg bands with padding provide extra comfort to users. They also have adjustable heel plates and foot straps and include self-locking metal buckles.
Pros
Premium Strength Aluminum Alloy creates strong sturdy stilts
Good Fit For Less Wobble
Good Adjustable Leg Bands With Padding
Cons
Can have difficulty getting proper adjustment for buckles
Some units make light sounds when walking
---
3. GypTool Pro 18″ – 30″ Drywall Stilts
The GypTool Pro 18″ – 30″ Silver Drywall Stilts, are easy to use and very suitable for interior drywall, painting and wiring and wallpaper laying work. The have a span of adjustment from 18" to 30" with a weight of almost 7 lbs. a piece.
They are made from premium grade lightweight aluminum and come with fully adjustable braces to accommodate just about any user. They are readily adjusted without need for any tools and the high-grade rubber soles make them very stable for use. Additionally, they are non-marring so floors are protected during usage.
Pros
Easy To Assemble
Solid Construction Materials
Easy To Use and Get Used To
Cons
Buckle Adjustments Could Be Easier
Are Slightly Heavier Than Other Stilts
---
4. GypTool Pro 48″ – 64″ Drywall Stilts
The GypTool Pro 48″ – 64″ Silver Drywall Stilts, are high quality drywall stilts that are great for any height based work such as drywall, painting, wallpaper, crown molding, wiring and more. These stilts are made from high quality light-weight aluminum and are meant to accommodate workers who need to reach heights of 10 feet high or more.
The stilts expand in adjustable increments of either 48", 52", 56", 60" or 64" inches. No special tools are needed to adjust the height of these stilts and the stilt braces are fully adjustable to accommodate different leg sizes and the feet are skid resistant to protect against slippage.
Pros
Great For Higher Ceilings
Comfortable
Light Weight For The Height
Cons
Extra buckle can be difficult for some people
Slightly Confusing Instructions
---
5. GypTool Pro 24″ – 40″ Silver Drywall Stilts
The GypTool Pro 24″ – 40″ Silver Drywall Stilts, are great for work in rooms with 8 to 9-foot ceilings for most users. They are light weight which makes usage to not weigh down users. With a single stilt weight of 7.5 pounds, it ensures users will not feel leg fatigue with long term use.
They are crafted from high grade and light-weight aluminum and have a skid free base at the feet for slip resistance. They have a maximum load capacity of 225 pounds. No tools needed for the adjustment of height on these stilts and the braces are fully adjustable to accommodate any user.
Pros
Good Light Weight Set
Sturdy Construction
Economically Priced
Cons
Some Users Have Difficulty Adjusting The Buckles
Takes Time To Get Adjust Properly
---
6. Yescom Drywall Stilts 24″-40″ Aluminum Tool Stilt
The Drywall Stilts 24″-40″ Blue Aluminum Stilts, are both light weight and made of strong aluminum alloy construction for sturdiness. They have dual action springs for flexibility. They feature high grade skid resistant rubber soles and they have a 227-lb. weight load capacity.
In addition, the heel has a 3-position bracket which helps to readily accommodate different foot sizes which gives a more secure fit for users. These stilts are great for average ceiling heights of 7 – 8 feet. They have replaceable parts available giving years of use to buyers. These stilts have easy and light assembly instructions.
Pros
Adjusting Height Is Easy
Minimal Assembly
Comfortable
Cons
Assembly Instructions Not Completely Clear
Light adjustments once worn might be necessary
---
7. Pentagon Tools 1153 Black MAG Stilts
The Pentagon Tools 1153 Black MAG Stilts 24-40" Mag Pros Magnesium Drywall Stilts, have adjustable heel plates as well as adjustable foot straps. Adjustments can be readily made on these stilts which include self-locking metal buckles.
They are constructed of high grade Magnesium and finished with a black glossy coating. They are light weight for a total of 8 lbs. each. The maximum weight capacity for these stilts is a 228-lb. load. Assembly of these stilts is easy and they feature dual spring flexibility. The soles of the stilts are skid resistant for safety in usage.
Pros
Dual Spring Flexibility
Self-Locking Buckles
Sturdy
Cons
The foot pads tend to wear out fast.
The leg padding could be more comfortable.
---
8. SurPro S2.1 Dual Legs Support Magnesium Drywall Stilts
SurPro is one of the top manufacturers in Drywall stilts in America. There 24-40-inch SurPro S2.1 Dual Legs Support Magnesium Drywall Stilts, are a well-built patented design and construction and made of high grade Magnesium. They have an exclusive Double Wing bolt and Interlok design which offers this brand flexibility and diversity for its users.
They are lightweight and a bit wider which offers greater balance and stability. These stilts are great for 8-foot ceilings or higher and their specialty "Dually" design offers two sides supports which also affords users with greater stability for full extension users or those who use more weighted pressure on the stilts as they work. They offer a one-year limited warranty and have a new wrap around leg band system with a wider contoured foot plate to offer superior comfort.
Pros
Very Comfortable
Great Leg Support
Good 1 Year Limited Warranty
Cons
Assembly Directions Could Be Clearer
Not Meant For Shorter Ceilings
---
9. Dura-Stilt 2440 Deluxe Stilts
The Dura-Stilt 2440 Deluxe Stilts, are lightweight high-quality steel stilts that are perfect for Drywall, Painting, Electrical, Wallpaper Laying, and any other height level indoor construction work needs. These are perfect for rooms of 8 feet or higher.
The reinforced steel is very lightweight at only 5 lbs. each which makes for ease of movement without being weighed down. They have skid resistant pads on the soles of the feet which helps improve traction, stability and slip resistance.
There are three adjustable sizes and the stilts have a decent weight capacity for users of 225 lbs. There are two good strap-on adapters included, with one for each stilt.
Pros
Lightweight
Easy Adjustable Straps
Decent Weight Capacity
Cons
Not Much Padding
Not Meant For Shorter Ceilings
---
10. GypTool Pro 15″-23″ Black Drywall Stilts
The GypTool Pro 15″-23″ Black Drywall Stilts, are designed for construction workers who are doing drywall, paintings. Wiring and wallpaper laying in rooms with 7-8-foot ceilings. They are made from high-grade premium light-weight aluminum and no tools are needed to adjust the height of these stilts.
The stilts weigh just 6.25 lbs. each. The braces are fully adjustable to accommodate any user. The working height is 15"-23" and they allow for a maximum weight capacity of 225 lbs. They have a skid resistant sole on each stilt foot to offer stability in usage.
Pros
High Quality Stable Stilts
Good For People Learning To Use Stilts
No Tools Needed For Adjustments
Cons
Restricted to 8-foot ceiling and under heights
Could Use More Padding For Comfort
---